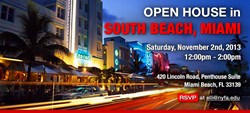 "Our goal is to immediately provide the area with a high-quality education in the arts. Our students get cameras in their hands on day one." - Jeremy Snepar, NYFA executive vice president
Miami, Florida (PRWEB) October 25, 2013
"We're extremely excited to be in Miami," said New York Film Academy's Executive Vice President, Jeremy Snepar. "Our goal is to immediately provide the area with a premier, hands-on education in the arts. Our students get cameras in their hands on day one."
The South Beach open house will be held on Saturday, November 2nd from 12:00-2:00pm. Prospective students interested in the Miami school's hands-on, intensive workshops in Filmmaking, Photography, and Acting are encouraged to attend.
The New York Film Academy, known for its students from all around the world, is aware of Miami's culturally diverse population and hopes to continue the tradition. "We hope to attract not only students from the United States, but also international students from South America, Europe and elsewhere," said Mr. Snepar. "South Beach is such an attractive location for artists. We believe students will be very interested in taking our classes."
Over the recent years, Miami has become an epicenter for the entertainment industry. Film and TV productions such as Magic City, Casino Royale, and Pain & Gain were shot in Miami, as well as a plethora of television commercials and music videos. Not only that, the Miami International Film Festival is held annually for up and coming filmmakers.
The Miami-Dade Office of Film, Print and Television wholeheartedly supports productions, and student filmmakers are provided with no-cost location scouting and permits. These incentives were a key factor in NYFA's decision to expand its international school to Miami.
In addition, NYFA often invites guest speakers from the entertainment world to speak to students, like Steven Spielberg, Ron Howard, and Miami native, Brett Ratner. The goal is to continue this model and invite local industry leaders to speak at the new Miami location.
Prospective students interested in attending the South Beach, Florida open house on November 2nd should email Elli Ventouras at Elli(at)nyfa(dot)edu. Classes in Filmmaking, Photography, and Acting will begin this upcoming January, 2014.