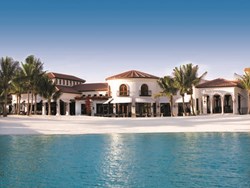 "Miromar Lakes is an example of what a vision and determination can do in taking land and making it into something beautiful that is an asset to Lee County, Florida" said Lee County Board of Commissioners Chairman Cecil Pendergrass.
Estero, FL (PRWEB) October 25, 2013
Miromar Development Corporation this month marks its 15th anniversary in Lee County. The developer's projects have had far reaching impact on the economic growth and landscape of southern Lee County. The corporation's properties include Miromar Outlets shopping mall, Miromar Lakes Beach & Golf Club residential community, Miromar Design Center for home furnishings and plans for University Village, a student & faculty housing community and retail center to complement Florida Gulf Coast University.
The construction phase of these projects to date has created more than 1,000 jobs and has resulted in more than 2,500 sustainable jobs at Miromar Development's commercial properties. Currently, more than 2,000 people live in Miromar Lakes Beach & Golf Club. The Miromar properties have generated more than 43 million dollars in tax revenue and development fees for the county.
"Miromar Development continues to be the standard of excellence for positive growth in Lee County," said Lee County Commissioner Frank Mann. "It has been and continues to be a pleasure working with their outstanding management team for the betterment of our beloved Lee County."
The vision for each of the corporation's award-winning properties was that of Miromar Founder and CEO, Margaret Antonier. A developer of retail and commercial buildings in Canada and the U.S., Antonier had conducted a national search for a location to build a large U.S. outlet mall before deciding upon Southwest Florida.
At the time Antonier purchased the land just off I-75 at Corkscrew Road in Estero, Florida there was no other commercial development in the area. Today, Miromar Outlets with more than 140 stores and restaurants is one of the world's premiere outlet shopping centers. With 8 million shoppers annually, Miromar Outlets is known for its one-of-a-kind architecture and design, the hallmark of all of the Miromar properties. "I incorporate various style elements from all over the world into our projects," Antonier said. "My design inspiration for Miromar Outlets was Portofino, a picturesque village in Italy."
During the permitting stage for Miromar Outlets, Antonier looked for land to build a residential community. The prospectus for the property that was to become Miromar Lakes Beach & Golf Club was sent to her office and recognizing the potential, she made an offer for the land sight unseen.
"From the moment I saw the lakes, I wanted to create the kind of place where I would want to live. I have always loved the water, so the idea of creating a water-oriented lifestyle was especially intriguing," Antonier said. "I had this incredible opportunity to take a white canvas and paint a beautiful landscape just the way I envisioned it, where people could feel like they are on a never-ending vacation, with all the luxurious amenities of a world-class resort, right at their doorsteps."
More than three miles of beach was created to surround the 700 acre lake. Antonier specifically wanted large stretches of the beachfront property to remain free of homes to be enjoyed by every resident. Miromar Lakes Beach Club was honored in 2010 with the National Association of Home Builders' Gold Award for Best Clubhouse, and in 2011 the community won the prestigious honor of No. 1 Community in the United States capturing the NAHB Gold Award for Community of the Year. Miromar Lakes is the only community in Florida in the 32 year history of the awards to receive these top honors.
"Miromar Lakes is an example of what a vision and determination can do in taking land and making it into something beautiful that is an asset to Lee County," said Lee County Board of Commissioners Chairman Cecil Pendergrass. "This is the kind of development and growth we like to see. It serves the residents, is careful to preserve the environment and enhances Lee County."
Miromar Development's impact on Lee County continued with the opening in 2007 of Miromar Design Center, one of just 19 major design centers in the country. The 250,000 square foot neo-classical building is home to 45 furniture stores. It was the first design center in the nation to be opened with shopping for the public while also providing all of the interior design needs for professional designers.
Miromar's philanthropic efforts include the Southwest Florida Wine & Food Fest; the 3rd largest Charity Wine Auction in the country. Vintner dinners and the grand tasting and live action held for the 5th year at Miromar Lakes Beach Clubhouse in February raised $7.5 million in 2013 for Southwest Florida Children's Charities, including Lee County's Golisano Children's Hospital of Southwest Florida. Miromar also brought the Dancing Classrooms Program to the state of Florida for the first time in 2008. In its 7th year, the social development program for Title 1 schools is funded by Miromar Outlets and administered by the Foundation for Lee County Public Schools. It has positively impacted the lives of more than 5,500 fifth graders thus far in Lee County, teaching them pride, confidence and self respect.
"We are part of this community. The entire Miromar team is committed to making southwest Florida a better place to live. Our employees volunteer their time for the charitable events at Miromar and to countless other charities and causes. That is what it means for a business to be a part of a community; being a good neighbor and hopefully helping to change lives for the better," Antonier said.
From the beginning Antonier's vision for the area was ahead of its time. Miromar Outlets opened eight years before Gulf Coast Town Center or Coconut Point Mall; Miromar Lakes Beach & Golf Club remains the only true resort styled, highly amenitized community in the market with waterfront living, golf and beaches all in one location. The Miromar Design Center is the only design center in Southwest Florida and paved the way for other major interior design centers in the country to open to the public. Each of the existing properties reflects Miromar's commitment to quality design and attention to the details that create a unique experience for the customers and residents.
The immediate future for Miromar Development includes a final phase of Miromar Outlets, an additional 650 homes to be built in Miromar Lakes and office/medical development on property adjacent to Miromar Design Center. Miromar Development's newest project, University Village, is planned with the same vision. The student housing development will offer Florida Gulf Coast University students a quality living experience with convenient shopping, dining and entertainment centered on a lake and boardwalk.
"University Village is being developed based upon thoughtful planning, design and execution that is synonymous with Miromar real estate projects," said Antonier. "University Village will enhance and provide support to the growth of FGCU. Our commitment to the community is exemplified by the award-winning properties that we have created over the past 15 years and will continue to create in the future."
Miromar Development properties have received over 150 international, national, regional and local awards. For more information visit MiromarDevelopment.com.