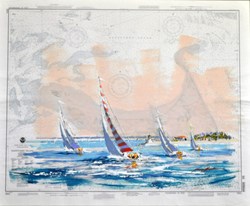 Whether wildly exotic or wistfully tranquil, Hallam characterizes these passageways as being "always like a stage-setting, there to be explored."
Las Vegas, NV (PRWEB) October 26, 2013
World renowned artist, Kerry Hallam, will be the honored guest at Martin Lawrence Galleries, The Forum Shops at Caesars, on Saturday, October 26th from 2:00 pm – 4:00 pm. The artist will unveil and speak about his most recent creations which include a dynamic collection of hand-signed serigraphs, original acrylic paintings on canvas and mixed media works on nautical charts that feature scenes of Las Vegas, the French and Italian Rivieras and other exotic ports of call.
Hallam is gifted Impressionist whose works convey the soul and emotion of the places he paints through a vivid use of color, bold brushstrokes and breath-taking compositions. He credits the Fauves, including Matisse, Van Gogh and Dufy as inspiration for his bright, pure palette and desire to entice the senses. Hallam paintings are included in collections held by actress Brigitte Bardot, tennis players Bjorn Borg and Lindsey Davenport as well as Monaco's Ambassador to the United States.
In addition to his artistic talents, Kerry Hallam is a gifted raconteur with the capacity for great-storytelling and off-the-cuff humorous remarks. He is also musician, having written and performed songs in the folk/ rock genre both in Europe and the United States, as well as the author of the spirited memoir, "Getting to Nantucket, An Artistic Journey". He thoroughly enjoys the opportunity to connect with collectors and meet new friends. He is looking forward to dedicating purchased artworks at the event in addition to his book, Artistic Visions, which features an extensive collection of his work.
Home to the most renowned and highly respected artists, Martin Lawrence Galleries redefines the art scene by making their world famous works of art available for acquisition at exceptional value. Martin Lawrence Galleries is located near in the Atlantis Fountain cul-de-sac near Nike. Hours are 10 a.m. – 11 p.m. weekdays and 10 a.m. – midnight on weekends. For more information, visit http://www.martinlawrence.com or contact 702-991-5990 or email vegas (at) martinlawrence (dot) com.
About Martin Lawrence Galleries Las Vegas:
The spectacular 26,000 square foot gallery is open to the public and offers artworks at every level of price and experience, including 20th century masters and 21st century stars. The gallery features the rare and the sublime with hundreds of artworks by Andy Warhol to Rodin's "The Thinker" to Alexander Calder's multimillion-dollar steel sculpture "Spiral, 1966 ('No! to Frank Lloyd Wright')" which was exhibited from the late sixties until the late nineties at the Smithsonian Institution in Washington D.C. Numerous works by Picasso are always on display and available for acquisition. The gallery is also home to the brilliant imagery and sculptural works of Erté, the father of Art Deco, Joan Mirò, and the artworks of today's finest artists, including Philippe Bertho, Robert Deyber, François Fressinier, Ali Golkar, Kerry Hallam, Douglas Hofmann, Liudmila Kondakova, Mark Kostabi, Felix Mas, Takashi Murakami, René Lalonde and many, many others.
You can follow Martin Lawrence Galleries:
Facebook:
https://www.facebook.com/MartinLawrenceGalleriesLasVegas
Pinterest:
http://pinterest.com/mlgalleries
Twitter:
https://twitter.com/tweetMLG