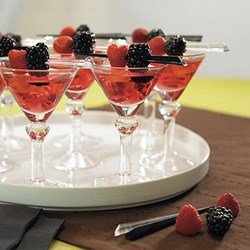 We truly believe that making the path towards wedded bliss as simple as possible is part of our responsibility as a wedding accessory and décor designer.
Dunmore, AB (PRWEB) October 25, 2013
With over 30 years in the wedding business, Weddingstar Inc. has earned their reputation of being able to "Put the Wow in Weddings." With their nuptial expertise firmly established, Weddingstar continues to broaden the market and their own horizons with ever-expanding lines of wedding decorations, accessories and stationery and has taken their matrimonial passion to a new level with designs to help customize every part of a couples journey to the altar. Constantly releasing imaginative pieces and inspirations to suit any couple, Weddingstar is changing the market on what a wedding retailer should be. With today's busy couples looking for the easiest way to make their wedding unique, Weddingstar has become a one stop shop for every wedding need – be it for the ceremony, the honeymoon and even the shower. And, their bridal shower accessories are no exception to their rule of exceptional quality fusing with affordability. Carrying multiple new designs, color choices and customizations, planning a bespoke bridal shower has never been easier.
Taking the guesswork out of designing a shower, Weddingstar has ensured that no bridesmaid or family member is left scratching their head, wondering what to buy for their brides party with their simple layout of shower accessories. With designs that are perfectly suited for a shower all grouped together, one simply needs to browse through and find the designs that perfectly sum up their favorite bride. From custom goodie bags and napkins to effortlessly chic decorations, Weddingstar carries it all to make sure that no design challenge is left unresolved. With a clear path towards bridal shower bliss laid down, planning a shower becomes simple and stress-free.
"We truly believe that making the path towards wedded bliss as simple as possible is part of our responsibility as a wedding accessory and décor designer," says a Weddingstar representative. "With today's fast paced world, couples and their families need an easy shopping experience where they can find just what they need – and that's what we strive to offer."
Along with their diverse range of décor and accessories geared towards bridal showers, Weddingstar also offers the custom options they're renowned for to make their shopping experience and products unique. Along with the classic options of color choices and designs, Weddingstar has designed many of their products to accommodate a wealth of personalization parameters so family and friends can add that finishing touch to their favorite shower accessories. From custom stamped napkins and ribbon to tie around favors to engraved card boxes, Weddingstar has you covered for throwing a shower that's one of kind and sure to sweep the bride right off her feet.
Weddingstar Inc. is one of the world's leading designers, manufacturers and retailers of wedding decorations and accessories. Dedicated to providing quality service to brides around the globe, Weddingstar ships to over 100 countries worldwide with distribution points in Europe, North America, Argentina, Australia and Russia. Featuring an ever-expanding selection of bridal accessories with over 3,000 different product offerings, Weddingstar is a one-stop destination for every wedding need. With 30 years of experience in the wedding industry and having received numerous business awards, Weddingstar has earned a reputation as the source for 'Putting the Wow into Weddings.' For more information, please visit http://www.weddingstar.com.