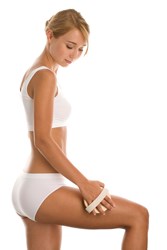 Travel, hustle-bustle and stress are right around the corner with the holiday season. Help to stay healthy with Skin Brushing, says Sublime Beauty®.
St. Petersburg, FL (PRWEB) October 27, 2013
Holiday travel, whether to family for Thanksgiving or Christmas, or vacations to different climates, is just around the corner. Regular schedules will go out the door, and eating habits will be different. You may drink less water, too, and stressful situations will abound.
The immune system will need bolstering to help stay healthy. Dry Skin Brushing will help, says Sublime Beauty®. How?
The lymphatic system will get help moving toxins out through Skin Brushing. (Lymph that builds up can cause disease.) Blood circulation will be boosted, helping deliver nutrients throughout the body. Toxins and dead cells will be removed from the skin, allowing the elimination process of the skin to function optimally.
"Dry Skin Brushing has so many benefits for well-being, and it can really help during travel and stressful holidays," says Kathy Heshelow, founder of Sublime Beauty®. The company devoted a website to the subject.
"We send a product report about the benefits to every purchaser of our portable Travel Skin Brush," Heshelow says.
The Sublime Beauty portable® Skin Brush comes with a handy pouch and can be tucked into any bag, purse or luggage easily. Simply use it each morning before your shower or in the evening before bed - or both! It retails for less than $13.00.
A few tips:
1) Brush on absolutely dry skin
2) Always brush towards the heart
3) Brush in firm strokes that are not too soft but should never hurt
4) Start at the feet and work your way up, brushing everything except the face. Pay attention to areas with lymph nodes to help the system, too.
5) Don't share brushes with others.
Skin Brushing has been practiced through the ages for better health and skin quality, and now it is time to discover this incredibly simple act! The portable Skin Brush could be a perfect little stocking stuffer at Christmas, too, says Heshelow.