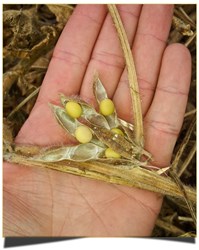 Denmark, WI (PRWEB) October 25, 2013
After what seemed like a long 16-days without government regulation, both the U.S. House of Representatives and Senate voted to reopen all government services, bringing some relief to the nation's slumping economy. But despite being in limbo without updates from groups like the USDA, the folks at Almost Nuts! are looking toward a bright future in the soy market.
Already in a shaky position before the government lockdown that began in early October, America's agricultural economy began to tumble, leaving both traders and farmers in the dark about the progress of their crops. In fact—for the first time in nearly 150 years—the USDA was not able to release a report concerning the grain market's fourth quarter GDP, resulting in less-confident buyers and market slumps. But now that the lockout has come to an end, traders and farmers will try again to reinvigorate their crops in the hopes that sales will soar back to their pre-lockout levels.
Come November 8th when the USDA will release its first report on grains in nearly two months, Almost Nuts! will be looking forward to the upcoming holidays to get back on track. Soybeans—already a popular healthy and delicious addition to any diet—by Almost Nuts! are brought to a whole new level by the company who dry roast their non-GMO beans before coating them in a sweet variety of chocolates. And now that their tasty snacks are available at select Woodman's Markets, the company hopes that consumers will come out in bounds to make the most of the holidays and share the wealth.
Today, Almost Nuts! is proud to offer Oven Baked Soybeans, Milk Chocolate Covered Soybeans, White Coat Yogurt Soybeans, and Dark Chocolate Covered Soybeans. These delicious, healthy soybean snacks are sold wholesale and retail.