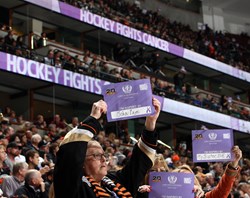 It was so inspiring to see the fans respond to our attendance, as well as share their own stories of cancer survival.
Anaheim, CA (PRWEB) October 24, 2013
National Hockey League team, the Anaheim Ducks, teamed up with Loma Linda University Health in the fight against cancer. As part of a month-long, league-wide initiative, the Ducks celebrated Hockey Fights Cancer (HFC) Night to raise awareness for Loma Linda University Cancer Center on Sunday, Oct. 20. The interactive evening encouraged fan participation in a variety of ways including the creation of "Inspiration Cards," recognizing loved ones affected by cancer.
"This was the perfect opportunity for Loma Linda University Cancer Center to reach out to a broader audience about cancer awareness," said Judy Chatigny, executive director for the Cancer Center, "It was so inspiring to see the fans respond to our attendance, as well as share their own stories of cancer survival."
Prior to the game, attendees were encouraged to complete Inspiration Cards with the names of those people who, through their fight with cancer, inspire them. During the second period there was a moment of recognition during which everyone was encouraged to hold up their lavender cards in honor of those individuals.
"So many people have been directly affected by cancer. This interactive evening gives the fans an opportunity to stand up and really fight back," said Mark Reeves, MD, director of LLU Cancer Center, in an interview with Fox Sports before the game. "So many cancer patients do that courageously. This allows us to remind the community that it's so important to support the patients as well as the professionals helping them in their fight."
Also recognized during the game were the Inland Women Fighting Cancer founders Annie Sellas, Cathy Stockton and Nancy Varner, who served as the game's "Community Heroes" and participated in a ceremonial puck drop. The three women banded together in 2007 and have raised $1.7 million for Loma Linda University Cancer Center through the annual Believe Walk in Redlands.
The 6th annual Believe Walk, held on Oct. 6, 2013, welcomed roughly 11,250 walkers comprised of kids, adults, families, and teams from all over the Inland Empire. The scope of the event has grown immensely since the inaugural walk in 2007, which had approximately 1,400 participants.
With lavender serving as the official HFC color (representing awareness for all types of cancers), Ducks players had lavender HFC decals affixed on their helmets during the game and will throughout the month. The Power Players and mascot sported lavender HFC ribbons, and the first 3,000 fans inside the Honda Center received ribbons as well.
To add to the excitement of the evening, the Ducks earned their 7th consecutive win, beating the Dallas Stars 6-3.
Additional photos available for download here: https://www.dropbox.com/sh/fejajlt70e0c817/61eNcs_tyu (Courtesy, Loma Linda University Health).
# # #