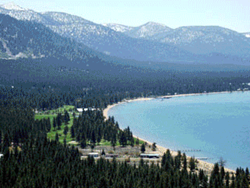 The editors of VirtualTahoe.com have put together a guide to a romantic weekend getaway to Lake Tahoe.
Lake Tahoe, CA (PRWEB) October 29, 2013
Blue jays are chippering, the lake is gently lapping against the shore, and the clear blue Lake Tahoe sky is glowing overhead. We are just surprised that Frank Sinatra doesn't appear out of the clouds singing "The Way You Look Tonight". All jokes aside, Lake Tahoe is one of the most romantic places to escape to, so the editors of VirtualTahoe.com have put together a guide to a romantic weekend getaway to Lake Tahoe. Included is where to stay and what to do for lovebirds in Lake Tahoe.
Where to Stay
With so many incredible Lake Tahoe lodging options, it is hard for traveling couples to decide! Romance is in the air, so be sure to cuddle up in one of these incredibly cozy options.

3 Peaks Resort & Beach Club - South Lake Tahoe
Rustic decorations inside cozy suites at 3 Peaks Resort & Beach Club have couples feeling at home in this beautiful South Lake Tahoe gem. From hotel rooms to suites, 3 Peaks Resort & Beach Club brings the perfect options for a romantic getaway. Rent the honeymoon suite and relax together in a heart-shaped Jacuzzi. Romantic packages are available for vacationing lovebirds.
Tahoe Luxury Properties - North Lake Tahoe
Tahoe Luxury Properties offers incredibly glamorous options, and is a great choice for a group of couples traveling together. Accommodations have everything one could possibly desire for a weekend getaway with a flock of lovebirds. Lodging is available for groups up to 16, so everyone who has a sweetheart can come along.
Forest Suites Resort - South Lake Tahoe
Cuddle up close and enjoy Lake Tahoe from the Forest Suites Resort. With packages designed especially for vacationing couples, Forest Suites Resort brings the romance to the resort. With a couples massage package lovers can drift into supreme relaxation together. Also available is a Romantic Dinner-Dance Cruise package, so sail into the sunset and leave troubles far behind.
What to Do
For a night of delicious seafood with views of the water, Fresh Ketch is the best catch. This casual, yet sophisticated option brings couples delectable dishes that are carefully crafted. With live music six nights a week, couples are invited to wind down with some jazz and fresh fish.
Rejuvenate with your better half during a relaxing couple's massage. Tahoe Massage & Bodywork gives couples a chance to close their eyes and drift into serenity with the one they love. With a choice of massages, couples can enjoy a newly decorated couple's massage room and feel tension melt away.
The M.S Dixie sunset cruise allows couples to enjoy the romance of Lake Tahoe aboard ship. With the sun sinking into the distance mountains, enjoy a combination of dancing, dining and sightseeing aboard Lake Tahoe's iconic cruise.
About VirtualTahoe.com:
VirtualTahoe.com, Lake Tahoe's number one online guide, provides quality information on all things Tahoe. Use VirtualTahoe.com to find information on everything Lake Tahoe from vacation lodging and casinos to ski resorts and boat rentals.