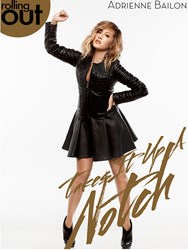 I want to be known as someone who never gave up.
Atlanta, GA (PRWEB) October 24, 2013
Being a teenage star can be a gift and a curse. The national exposure can catapult a career into the stratosphere, but there is always the risk of being restricted when it comes to delving into mature art.
Adrienne Bailon started her career as a teenager in the group 3LW and eventually garnered success with the Disney franchise, 'The Cheetah Girls.'
Bailon is transitioning into more adult themes with her latest project. She stars as the lead alongside Ja Rule in the new film, 'I'm in Love with a Church Girl.'
"It's so crazy, timing for me is everything," she says. "I think that everything seems to be working right on time."
Bailon's fans have showed love and supported her for over a decade. She is able to reach new audiences because of where she comes from and how she connects to the everyday woman.
"I've realized it takes so much courage to be real," she emotes. "I want to be known as someone who never gave up."
Visit rollingout.com to read the interview in its entirety. Be sure to check out the exclusive photo shoot and video footage with celebrity photographer DeWayne Rogers.
About rolling out Magazine:
Rolling out, the nation's largest free urban weekly, is a digital and print magazine that focuses on the black experience in response to entertainment, politics, fashion, culture, sports and lifestyle points of interest. Headquartered in Atlanta, rolling out is positioned as the voice for the African American experience, using its newspaper as a platform in the marketplace to express urgency for education reform, and to document entrepreneurial endeavors and other relevant issues in the Diaspora. For information on rolling out, please log on to rollingout.com.