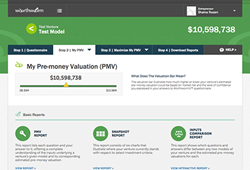 We are proud that we were given an opportunity to work with Worthworm. Pre-money valuation is crucially important for early stage startups. It is both a science and an art.
Newton, MA (PRWEB) October 24, 2013
Kanda Software, a leading software development firm, and Worthworm have announced the public availability of its flagship product, Worthworm. Worthworm is a software tool created to facilitate the fund raising and valuation process for start-up companies. Kanda Software, Worthworm's development partner, is pleased it had an opportunity to transform a great idea, which provides an easy solution to the pre-money valuation problem, into a reality.
When a startup is ready to raise capital, pre-money valuation is the first step that needs to be taken. It is a starting point to begin negotiations between entrepreneurs and investors. However, startup valuation drastically differs from the valuation of the established companies. High risk of failure and little or no revenues make traditional methods of determining the value ineffective. The fact that entrepreneurs always seek more money and investors always seek more equity often slows downs negotiation process.
Worthworm was designed to address this challenge and provide affordable, rigorous valuation tool for early stage ventures that provides comprehensive, credible and defensible pre-money valuation.
The tool is based on a blend of the valuation methodologies widely accepted by seasoned angel investors, third-party valuation companies. By using Worthworm, entrepreneurs will also gain a deeper understanding of the risks and opportunities they can use to negotiate higher pre-money valuation.
"We selected Kanda as our software development partner because of their impeccable track record and their extensive expertise in helping startups translate their ideas into a great products. Kanda's strong work ethic, flexibility and understanding of startup needs allowed us to concentrate on the strategic business decisions that are crucial for Worthworm to succeed," says Alan Lobock, co-founder of Worthworm.
Alex Karpovsky, CEO of Kanda Software, commented on the relationship, "We are proud that we were given an opportunity to work with Worthworm. Pre-money valuation is crucially important for early stage startups. It is both a science and an art. Surprisingly, so many startups get it wrong due to the lack of information or pressure from the investors."
---
About Worthworm
Worthworm is a web-based valuation tool for early stage companies seeking angel investment. The web-based tool incorporates widely accepted valuation methods, third-party valuation comparables, and proprietary technologies to provide users with a credible, defensible pre-money valuation with which to enter into negotiations. For angel investors, Worthworm's questionnaire standardizes a portion of the due diligence process, whether used as a screening tool or for future analysis. After investment, Worthworm becomes a strategic management tool helping entrepreneurs and angels evaluate opportunities, risks, and strategies amid the venture's changing circumstances. For more information, please visit http://www.worthworm.com.
About Kanda
Based out of Massachusetts, Kanda Software has more than 20 years of expertise in software and mobile application development as well as quality assurance for the companies whose core competency is the software product or service itself. Partnering with Kanda allows clients to concentrate on other important aspects of the business and be certain that the software development, maintenance and quality assurance are implemented cost-efficiently and according to the client demands. In a world where software development is constantly in flux and continually being reinvented, Kanda is a solid, stable and flexible partner capable of engaging with clients on any number of levels, from point solutions to fully outsourced software product development. For more information, please visit: http://www.kandasoft.com.