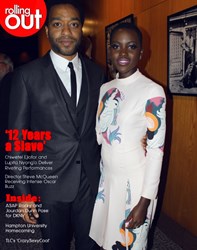 Atlanta, GA (PRWEB) October 25, 2013
The star of the '12 Years a Slave' juggernaut, Chiwetel Ejiofor, playing Solomon Northup, said he was blown away when he read the script and book of the same name. Lupita Nyong'o said she never fathomed in her wildest dreams that she could be a part of a project of this magnitude so fresh out of the Yale School of Drama. And Michael Fassbender, who plays the psychotic slave owner, said he was in tears because director Steve McQueen's script was "incredible."
They are far from alone in feeling baptized in a life-altering experience. Many people's ears are still ringing today from the deafening ovation that bellowed out from the Toronto Film Festival, where '12 Years a Slave' became a certified runaway sensation, and continues to reverberate across the country in a way that no movie on the topic of slavery ever has. The Oscar buzz wafting off of this film has forced American pop culture stop in its tracks and take notice.
"It was a real privilege to bring Solomon and the other people on the film, to bring them to life," said Ejiofor. "It's just a remarkable experience … and the greatest working experience that I've ever had."
"I made a movie because I wanted to tell a story about slavery, a story which for me hadn't been given a platform in cinema," shares McQueen. "It's one thing to read about slavery, to have these illustrations — but when you see it on celluloid and within a narrative, it does something different."
Visit rollingout.com to read the interview in its entirety. Be sure to check out the exclusive photo shoot and video footage with Michael Melendy.
About rolling out Magazine:
Rolling out, the nation's largest free urban weekly, is a digital and print magazine that focuses on the black experience in response to entertainment, politics, fashion, culture, sports and lifestyle points of interest. Headquartered in Atlanta, rolling out is positioned as the voice for the African American experience, using its newspaper as a platform in the marketplace to express urgency for education reform, and to document entrepreneurial endeavors and other relevant issues in the Diaspora. For information on rolling out, please log on to rollingout.com.