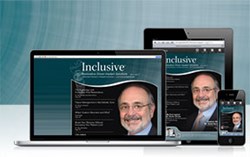 "Each issue of Inclusive magazine seeks to highlight the many aspects of dental implants from clinical and laboratory perspectives."
Newport Beach, Calif. (PRWEB) October 29, 2013
Glidewell Laboratories, industry-leading provider of dental laboratory products and services, announced today that the latest issue of Inclusive™ magazine, its multimedia publication focused on implant dentistry, is now available in print and across multiple digital platforms. The digital edition of the new issue, Volume 4, Issue 3, as well as past issues of the dental laboratory's quarterly magazine, can be viewed from all popular desktop, tablet, and smartphone platforms by visiting http://www.inclusivemagazine.com.
In the featured Implant Q&A, Inclusive magazine publisher and Glidewell Laboratories President/CEO Jim Glidewell sits down with Dr. David Garber, a practicing prosthodontist and fixed periodontist in Atlanta, Ga., and clinical professor in both periodontics and oral rehabilitation at the Medical College of Georgia School of Dentistry. Read the article and watch the exclusive video interview to discover what this key opinion leader thinks on a range of topics including the challenges and opportunities facing the implant industry, the evolution of dental education in the Internet Age and the importance of embracing change as digital dentistry advances.
Also featured in the issue is an article about how dental offices can reap the benefits of billing exams to medical insurance plans by Illinois-based general dentist and former insurance plan consultant Dr. Olya Zahrebelny of practice management company The Z Group. In the video component, Dr. Zahrebelny discusses the intricate world of medical billing and dental procedures covered by medical insurance with Inclusive Editor-in-Chief and Clinical Editor Dr. Siamak Abai, using her thorough understanding of the relationship between dentists and insurance companies to further demystify the billing and claim submission process.
Other issue highlights include the recurring My First Implant column, in which New York-based expert in dental implantology and leader in dental implant continuing education Dr. Dennis Tarnow recounts the experience he had treating his first implant patient more than 30 years ago. A photo essay by Los Angeles-based Dr. Sascha Jovanovic, founder and academic chairman of the Global Institute for Dental Education (GIDE), illustrates a technique for bone grafting and single-tooth implant placement in the esthetic zone. And in two articles with expanded video content, Michigan-based Dr. Timothy Kosinski first details prosthetically-driven implant placement utilizing the Inclusive® Tooth Replacement System from Glidewell Laboratories, and then discusses the range of applications and benefits of mini implants for edentulous patients.
After reading the articles, viewing the case photos and watching the videos, readers have the opportunity to take free interactive continuing education (CE) tests through the Glidewell Education Center. Participants can earn free CE credits through the Academy of General Dentistry (AGD) Program Approval for Continuing Education (PACE) program for each test they complete and pass.
Inclusive magazine is published by Glidewell Laboratories and President/CEO Jim Glidewell, CDT. Each issue of Inclusive seeks to highlight the many aspects of dental implants from clinical and laboratory perspectives. Featuring case studies, clinical tips and techniques, and practice management tools in both article and video format, Inclusive prompts its readers to implement the latest advancements in implantology in order to achieve predictable, profitable, reproducible results.
To view the new Inclusive magazine digital edition from your desktop computer or favorite mobile device and to sign up for a free subscription to the print version, visit http://www.inclusivemagazine.com. For more information about Inclusive magazine, call 800-521-0576 or e-mail inclusivemagazine(at)glidewelldental(dot)com.