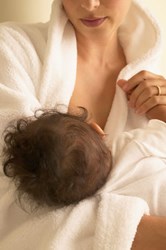 Colostrum is the very first food of life for humans and all other mammals.
Sedona, Arizona (PRWEB) October 29, 2013
In response to a recent article in the Wall Street Journal (Monday, October 21, 2013) titled "Donor Breast Milk Found to Be Risky – Study Finds High Levels of Bacteria in Majority of Samples Obtained Online" the Center for Nutritional Research offers an alternative solution to mothers affected by this issue. Mothers seeking nutritious breast milk for their babies need to be aware of the risk associated with milk-sharing programs. The WSJ article references a study in the medical journal Pediatrics which found 74% of breast milk samples purchased via the internet contained infectious bacteria and 21% contained cytomegalovirus (a herpes-type virus).
The researchers concluded: Human milk purchased via the Internet exhibited high overall bacterial growth and frequent contamination with pathogenic bacteria, reflecting poor collection, storage, or shipping practices. Infants consuming this milk are at risk for negative outcomes, particularly if born preterm or are medically compromised. Increased use of lactation support services may begin to address the milk supply gap for women who want to feed their child human milk but cannot meet his or her needs.
Douglas A. Wyatt, Founder of the Center for Nutritional Research, strongly encourages mothers who want to breastfeed their babies but are unable, to consider bovine colostrum powder as an additive to formulas as a healthy, sterile and viable alternative to breast milk sharing. "Sharing or selling human milk over the internet is fraught with health risks to the infant. Proper handling and storage, temperature issues, and questions about a milk donor's prescription or illicit drug use, are definitely NOT an issue with bovine colostrum supplementation".
Bovine colostrum contains a plethora of pathogen-fighting substances and growth factors which help the infant establish a healthy immune system and develop optimally. "Of course I advocate breastfeeding for the first two years of life," says Wyatt, "but I also recognize that might not be feasible for all women. In that case, colostrum is ideal, and I recommend Sovereign Laboratories for the highest quality colostrum products on the market today". Bovine colostrum from Sovereign Laboratories (http://www.sovereignlaboratories.com) is flash pasteurized and confirmed to be pathogen-free as well as GMP, Kosher, and Halal certified.
The Center for Nutritional Research is a not for-profit organization located in Sedona, Arizona dedicated to the continued research and promotion of bovine colostrum. The Center for Nutritional Research has pioneered colostrum collection and processing technology for human consumption. For additional information, please visit http://www.centerfornutritionalresearch.org or email: info(at)centerfornutritionalresearch(dot)org.