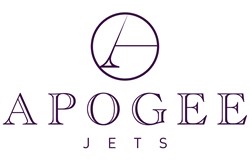 The success of Apogee Jets underscores the increasing role of private aviation in the global air transportation systems. - Kevin Parrott.
New York (PRWEB) November 06, 2013
Inc. magazine has published their 2013 500|5000 list of the Fastest Growing Companies in America and has ranked Miami based private Jet provider, Apogee Jets on its seventh annual Inc. 500|5000.
Apogee Jets, headquartered in Miami Florida with an additional office on Wall Street in New York City, is a boutique private jet provider and has remained a privately held company since inception.
Apogee Jets principally focuses on the recording industry, specifically live music concert tours, provides direct support for recording artist representing the most prominent talent and entertainment agencies; including Live Nation, Creative Arts Agency, William Morris Endeavor and ICM partners.
2013 is Apogee Jets' second consecutive year ranking as one of the nation's fastest-growing private companies. With triple-digit revenue growth, Apogee Jets was ranked in the top 100 logistic and transportation companies nationwide and second in the Miami metro area.
Inc. Magazine Editor Eric Schurenberg stated: "The Inc. 5000 was harder to get into this year than ever in history. To rank among the 2013 Inc. 5000, Apogee Jets had to thrive through three of the toughest years this economy has seen in living memory." Apogee Jets' success in such times is eloquent testimony to Kevin Parrott, founder and Chief Executive Officer, and his team's creativity, resilience, and tenacity.
The Inc. 500 | 5000 list represents the most comprehensive look at the most important segment of the economy—America's independent entrepreneurs. Apogee Jets welcomes its position within this very exclusive club and proudly shares a pedigree with Zappos, Under Armour, Jamba Juice and other notable alumni and proudly joins powerhouses such as restoration hardware, LivingSocial, Edible Arrangements, CDW and Lifelock, among other prominent brands featured on this year's list.
More About Inc and the Inc 500 | 5000
In a stagnant economic environment, median growth rate of 2013 Inc. 500|5000 companies is an impressive 142 percent. The companies on this year's list report having created over 520,000 jobs in the past three years, and aggregate revenue among the honorees reached $241 billion.
Complete results of the Inc. 5000, including company profiles and an interactive database that can be sorted by industry, region, and other criteria, can be found at http://www.inc.com/5000.
"Not all the companies in the Inc. 500 | 5000 are in glamorous industries, but in their fields they are as famous as household name companies simply by virtue of being great at what they do. They are the hidden champions of job growth and innovation, the real muscle of the American economy," says Inc. Editor Eric Schurenberg.
Ranking Methodology
The 2013 Inc. 500|5000 is ranked according to percentage revenue growth when comparing 2009 to 2012. To qualify, companies must have been founded and generating revenue by March 31, 2009. They had to be U.S.-based, privately held, for profit, and independent—not subsidiaries or divisions of other companies—as of December 31, 2012. (Since then, a number of companies on the list have gone public or been acquired.) The minimum revenue required for 2009 is $100,000; the minimum for 2012 is $2 million. As always, Inc. reserves the right to decline applicants for subjective reasons. Companies on the Inc. 500 are featured in Inc.'s September issue. They represent the top tier of the Inc. 5000, which can be found at http://www.inc.com/500.
About Apogee Jets
Since inception, Apogee Jets has been poised and will remain a luxury boutique style provider of private aircraft with limited client base. We focus principally on the recording industry, concentrating on live music tours worldwide. Apogee Jets understands and accommodates tour travel budgets providing maximum financial vitality for concert organizers and management booking companies. As well we provide artist and corporate record label flight support. Our pointed model and bespoke offering allows Apogee Jets recording industry clients principle and substitute aircraft providing lift for artist as well as cargo support.
For more information about Apogee Jets, visit: http://www.apogeejets.com.