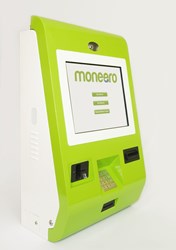 We are moving Bitcoin out of the Geek Zone and right into the living room of everyday families
Montevideo, UY / Memphis, TN, US (PRWEB) October 28, 2013
Earth's 7.1 billion people have 6.8 billion active cell phones. Almost everyone in the world has SMS text-messaging technology, making mobile phones the most popular device ever in history.
South American startup Moneero plans to transform the SMS network into the first truly global payment system by using Bitcoin, a payment technology created in 2009 with virtually no transfer fees. Moneero's inclusive ecosystem, available in the coming months, also works with the world's 1.5 billion social media accounts and Moneero's Bitcoin-specific ATMs.
Phone to phone Bitcoin payments
Moneero's SMS texting service lets its users enjoy instant and nearly costless transactions to and from any mobile phone number worldwide. The service is compatible with smart phones and old-fashioned mobile phones. Most cellphones are being operated in rural areas outside urban environments and rarely have access to high speed internet. The majority of 6.8 billion phones are not smartphones and are currently excluded from Bitcoin technology. Opening a Moneero account is free and gives these users immediate access to the rest of Moneero's ecosystem.
Bitcoin invades Social Networks
Moneero goes beyond SMS texting and also turns accounts on all major social media platforms into Bitcoin wallets. Users can share Bitcoin with their friends as easy as they send messages on Facebook . Bitcoins can also be tweeted to any of the 218 million Twitter users. Moneero is working on apps for all major social media platforms.
"We are moving Bitcoin out of the Geek Zone and right into the living room of everyday families," says Steven Morell, co-founder and CPO of Moneero.
Enthusiasts of the new Bitcoin technology often struggle to convince their friends and families to start using Bitcoin because of the complexities of installing and managing a digital wallet. The social apps make joining the Bitcoin trend easy.
First Bitcoin vending machines launching this year
To bolster its user-friendly Bitcoin solutions, the startup has developed Bitcoin-specific hardware that resembles an ATM, called the Moneero BTM. The BTM allows users to load bitcoins onto their accounts with cash and reinforces Moneero's coherent ecosystem.
The BTMs will be installed in cinemas, hostels, and stores in Montevideo and Punta del Este, Uruguay, before the end of the year. Over fifty machines are already scheduled to appear in nine more countries. The BTMs can be configured to accept banknotes of nearly all currencies.
The indoor machine comes with a vandal-proof 17-inch touch screen, high resolution camera, steel numeric pad, thermal receipt printer, and card reader. The BTM was developed in six months in cooperation with an ATM industry veteran and is available for order now.
Solving the legal complexity through certification
Moneero BTMs can be ordered by certified partners only. Mainstream bitcoin adoption has been complicated by a maze of financial regulations. The startup counters this challenge with a certified partner program. The vetting process requires a banking relationship that meets the requirements of respective jurisdictions. Moneero's multi-factor user verification architecture makes following international KYC/AML standards simpler for its partners. Currently, the startup is working with interested parties from South America, Europe, Southeast Asia, and the Middle East.
About Moneero
Moneero is a Bitcoin startup based in Uruguay that connects people to Bitcoin by providing a coherent, multi-channel service. Funded with bitcoins from early adopters and investors, Moneero's global team of Bitcoin experts and disruptive Bitcoin enthusiasts is making Bitcoin a for-everyone technology—easy to understand, easy to use, easy to obtain, and safe.