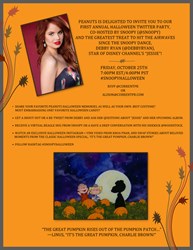 Halloween has always been a special time for us, from Charlie Brown's hilarious ghost costume to Snoopy's classic moment as the World War I Flying Ace.
New York, New York (PRWEB) October 24, 2013
Charlie Brown may complain that "I got a rock," but Peanuts fans everywhere will celebrate the pumpkin-full of treats they're getting this Halloween, as Peanuts Worldwide unveils a slate of new events and products surrounding everyone's (especially Linus') favorite holiday.
Halloween Social: Television star Debby Ryan (Disney Channel's "Jessie") and Snoopy will co-host a Halloween-themed social media party, chatting with Ryan's more than 2.6 million Twitter followers and more than 500,000 Instagram fans about Peanuts lore, the Great Pumpkin, and Ryan's acting and singing careers. WHEN: Friday, October 25 at 4:00pm PT/7:00pm ET. WHERE: #SnoopyHalloween.
A Twitterview for the Record: CNN's Jake Tapper will conduct the world's first news anchor Twitterview with Snoopy's BFF Woodstock—getting a very special bird's eye view of Halloween. WHEN: October 28, at 5:15 p.m. (ET). WHERE: @JakeTapper and @Woodstock Please visit The Lead Blog for more information and use #WoodstockQs to participate in the interview.
Go Out of Your Gourd with the "Great Pumpkin" App Fun: Loud Crow Interactive's "It's the Great Pumpkin, Charlie Brown" app is the Starbucks Pick of the Week (October 22–31)—just pick up the promo card with your morning coffee and enjoy a free download. Carve your own pumpkin, play a little ditty on Schroeder's piano and bob for apples with Snoopy—just watch out for dog germs, blech! WHEN: App available now; Starbucks Pick of the Week promotion runs October 22–31. WHERE: Starbucks and the App Store.
New Snoopy Treats on Facebook: Peanuts and Facebook are unveiling a new line of Halloween and Thanksgiving 'stickers' for Facebook private messages—allowing Facebook users to put a special Peanuts holiday stamp on their emoticons. Snoopy, Charlie Brown, Lucy, Linus, Woodstock, Sally, even Snoopy's brother Spike make appearances in 16 irresistible poses. All will be available in the Facebook Sticker Store, accessed via the smiley emoticon when users create a private message. WHEN: October 23. WHERE: Facebook Sticker Store.
A 6-Second Classic: Acclaimed stop-motion animator Khoa will debut new Halloween-themed Peanuts Vine and Instagram videos on October 28. The celebrated animator, whose whimsical and ingenious videos using Vine, Twitter's video-based social media app, have attracted thousands of followers, has been creating custom Peanuts Vines since June. WHEN: October 28, 2013. WHERE: @Snoopygrams and @Snoopy.
Best-Dressed Dogs: Snoopy-loving dogs get tricked out with Peanuts dog toys and dog apparel from Fetch… for Pets! exclusively from PetSmart. WHEN: Available now. WHERE: Petsmart.
A Special Special: It's the Great Pumpkin, Charlie Brown will enjoy its 47th annual airing when the beloved Halloween special is broadcast on ABC on October 31. With Linus promising Sally that the Great Pumpkin will rise from the pumpkin patch, Snoopy as the World War I Flying Ace fighting the Red Baron, and Charlie Brown moaning dolefully, "I got a rock," the Peanuts special is as much a part of America's Halloween tradition as "Trick or treat!" WHEN: Thursday, October 31 at 8:00pm ET/PT. WHERE: ABC.
A Special DVD: The remastered deluxe edition DVD of It's the Great Pumpkin, Charlie Brown is available from Warner Home Video. The DVD includes the bonus story "It's Magic, Charlie Brown" and the featurette, "We Need a Blockbuster, Charlie Brown." The DVD retails for $19.99. WHEN: Available now. WHERE: Wherever DVDs are sold.
"Halloween has always been a special time for us, from Charlie Brown's hilarious ghost costume with a few too many eye-holes, to Sally's outrage as she realizes she's missed the trick-or-treating while waiting with Linus for the Great Pumpkin, to Snoopy's classic moment as the World War I Flying Ace," says Leigh Anne Brodsky, Managing Director, Peanuts Worldwide. "So we're delighted to share the joy with Snoopy fans as we celebrate the holiday in a big Peanuts way!"
-The End-
About Peanuts Worldwide
The PEANUTS characters and related intellectual property are owned by Peanuts Worldwide LLC, a joint venture owned 80% by Iconix Brand Group, Inc. and 20% by members of the Charles M. Schulz family. Iconix Brand Group, Inc. owns, licenses and markets a growing portfolio of consumer brands including: CANDIE'S (R), BONGO (R), BADGLEY MISCHKA (R), JOE BOXER (R), RAMPAGE (R), MUDD (R), MOSSIMO (R), LONDON FOG (R), OCEAN PACIFIC (R), DANSKIN (R), ROCAWEAR (R), CANNON (R), ROYAL VELVET (R), FIELDCREST (R), CHARISMA (R), STARTER (R), WAVERLY (R), ZOO YORK (R), ED HARDY (R), SHARPER IMAGE (R), UMBRO (R), LEE COOPER (R), ECKO (R), and MARC ECKO (R). In addition, Iconix owns interests in the ARTFUL DODGER (R), MATERIAL GIRL (R), PEANUTS (R), TRUTH OR DARE (R), BILLIONAIRE BOYS CLUB (R), ICE CREAM (R), MODERN AMUSEMENT (R), and BUFFALO (R) brands. The Company licenses its brands to a network of leading retailers and manufacturers that touch every major segment of retail distribution from the luxury market to the mass market in both the U.S. and worldwide. Through its in-house business development, merchandising, advertising and public relations departments Iconix manages its brands to drive greater consumer awareness and equity.