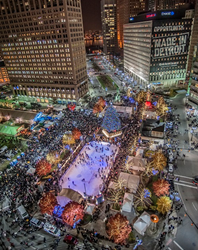 (PRWEB) October 25, 2013
WHO: Officials representing Campus Martius Park, DTE Energy Foundation, and City of Detroit
WHAT: The Arrival of Detroit's Christmas Tree
Presented by DTE Energy Foundation
WHERE: Campus Martius Park
WHEN: Friday, Nov. 1, 2013
TIME: Brief remarks begin at noon, with tree hoisted atop Woodward Fountain starting between 12:00 – 12:30 PM
The 2013 Detroit Christmas Tree will be harvested and trekked 225 miles southeast from Sherman, Mich., to Campus Martius Park, where it will be hoisted by crane Friday, Nov. 1, onto the Woodward Fountain. The official tree raising will take place between 12 -12:30 PM, Nov. 1, following brief remarks. The Cass Tech Marching and Salvation Army Bands will play holiday music to start and close the event, respectively.
This year's tree is taller than last years, measuring 60-feet tall and weighing over 10,000 pounds. The tree hails from Sherman, Mich., small unincorporated community in Wexford County, between Cadillac and Traverse City, just south of Interlochen. Pinecones will be planted on-site upon the trees removal to replenish the natural resources for the future. As in previous years, the Michigan Christmas Tree Association helped locate and secure the tree, which was provided to Campus Martius Park by anonymous private owners. Following Friday's tree arrival event, the tree will be wrapped in 19,000 LED lights, adorned with ornaments. The continued use of LED lights for the Christmas Tree continues the Park's commitment to energy conservation. It will take nearly three weeks to prepare the tree and park for the Friday, Nov. 22, Detroit Tree Lighting Ceremony presented by DTE Energy Foundation. This year's Tree Lighting will mark the 10th Anniversary of the official opening of Campus Martius Park.
In addition, Downtown Detroit will be glowing with over 350,000 lights including Woodward and Jefferson Avenues, and Campus Martius Park.
The festivities for the Detroit Tree Lighting Ceremony presented by DTE Energy Foundation begin at 6:30 PM, Nov. 22, with entertainment, live music, ice-skating shows featuring the Detroit Skating Club, and many other seasonal family activities . For more information, contact the Detroit 300 Conservancy at (313) 962-0101 or visit campusmartiuspark.org. The Tree Lighting kicks off the 10th annual Winter Magic Season at Campus Martius Park, presented by Quicken Loans.
Media Contact: Allison Hurt, BERLINE, (248) 593-7434, ahurt(at)berline(dot)com