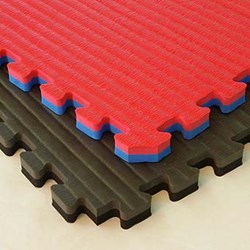 I use these when practising Thai Boxing and it works well: not slippery, not too firm, not too soft, and easy to clean. An excellent product. - Alex Chappaqua, NY
Milltown, WI (PRWEB) October 25, 2013
Greatmats, an online retailer of specialty flooring, has introduced a new mat designed for home martial arts training, aerobic activities, and for kids to roughhouse on. These tiles measure 2x2 feet and are 20 mm thick. Each tile covers approximately four square feet.
Predominately designed for residential use, this foam floor tile is also built for basement use. These tiles are waterproof and designed to dry-lay on almost any flat, level surface such as hardwood floors, ceramic tiles, or concrete.
Tatami Sport Foam tiles feature one color per side. They are available in black/gray or red/blue combinations. The tiles are reversible which means the user can interlock them together with either color facing up. This allows for checkerboard patterns. Tough tatami surface makes this product a favorite for athletes who like to practice martial arts or do floor exercises in the comfort of their own home.
Tatami Sport Foam Tiles are warrantied for one year. They are non-toxic and lead-free. They are lightweight and require no adhesives for installation. The user can simply piece the tiles together like a giant puzzle.
Two border strips are included per tile. These allow the user to complete a finished edge for island-type layouts. For wall-to-wall installations, the tiles can be simply cut with a sharp utility knife and a straightedge to cut along.
Greatmats provides an easy-to-use online room designer that allows customers to create their room layout to scale and to determine the number of floor tiles they will need for their area by simply typing in the dimensions.
Currently, Tatami Sports Foam tiles are on sale with free shipping.
About Greatmats:
Headquartered in Milltown, WI, Greatmats is a leading online retailer of residential, athletic and commercial specialty flooring systems. Greatmats is 100% solar powered and has been named one of Inc magazine's top 500 fastest growing companies. They hold an A+ rating with the Better Business Bureau. For further information, contact Greatmats at 877-822-6622 or visit http://www.greatmats.com.