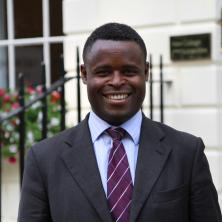 (PRWEB UK) 25 October 2013
New College of the Humanities (NCH) announces today the appointment of Dr Linus Etube as Lecturer in Economics. He will work closely with other members of the department including Dr. Marianna Koli, Professor Sir Partha Dasgupta, Dr Jungyoon Lee, Dr. Manzur Rashid and Dr. Georgios Zouros. Dr. Etube will have a role in NCH's Economics department and will be responsible for the delivery of the module on Principles of Banking and Finance.
Dr. Etube started his career in investment management and private banking as a Quantitative Investment Analyst at International Asset Management in early 2001. He took up this role shortly after completing an Enterprise Risk Management Project with Robertson Stephens as part of a study to investigate the impact of effective risk monitoring on automated settlement and reconciliation of Securities Trading transactions.
He subsequently joined QES Investments Ltd, as the Head of Investment Research and Portfolio Management for High Net Worth Client portfolios. He was a co-founding Partner of Clerville Investment Management LLP where he later became the Chief Investment Officer.
His areas of interest include Alternative Investments, Financial Markets and Institution, Corporate Finance and Mergers and Acquisitions, Portfolio Management and most importantly, the evolution of the concept of distributed banking for enhanced reduction in systemic risk across the world financial system. Dr. Etube has previously designed and delivered courses around Economics, Banking and Finance to support Higher Education Institutions across the UK.
Dr. Marianna Koli, Convenor and Senior Lecturer in Economics commented: "We are delighted to welcome Dr. Etube to the Economics faculty. The Economics BSc course at NCH equips students to think critically and develop their understanding of key issues combined with a relentless analytical examination of economic concepts and theory. We expect Dr. Etube's course on the Principles of Banking and Finance to complement the rigorous degree programme we offer."
A C Grayling, Master of New College of the Humanities, said: "We are pleased to welcome Dr. Etube to the growing Economics faculty at NCH. His experience, depth of knowledge and expertise add to the Faculty's portfolio. We are looking forward to building on our Economics offerings at the College."
Ends
For further information, please contact:
Desi Lyon
T: 0207 400 7398
E: desi.lyon(at)nchum(dot)org
Notes to Editors
New College of the Humanities (NCH) offers a new model of higher education for the humanities in the UK. NCH students enjoy one of the best staff-to-student ratios in UK higher education and benefit from a high number of quality contact hours including engaging and challenging one-to-one tutorials.
Our professors are international experts in their fields and our full- time academic staff members have been selected for their proven ability in teaching as well as for their research interests.
NCH welcomed its first intake of students in September 2012 and prepares students for undergraduate degrees in: Economics BSc; English BA; History BA; Law LLB, Philosophy BA and Politics & International Relations BSc.
In addition to their 12-module single honours undergraduate degree from the University of London, all NCH students study a further eight modules. These are comprised of four modules from another degree subject or Art History, Classical Studies or Psychology as a contextual course and three core modules in Applied Ethics, Logic & Critical Thinking, and Science Literacy, plus the College's three-year Professional Programme.
The College is centrally located in Bloomsbury, London's university district and students, as associate members of the University of London, have access to many of the resources of the University of London: the exceptional library in Senate House, the University of London Union, sports facilities, and many other opportunities to enrich themselves through extra-curricular activity.
The College's rolling applications process is independent of UCAS and applications can be made in addition to the five UCAS choices. Visit http://www.NCHum.org or call 020 7637 4550 for all enquiries and applications.