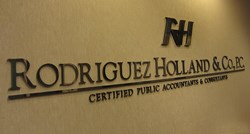 San Antonio, TX (PRWEB) October 24, 2013
According to a recent article in Fraud Magazine, the average value of property stolen per strong-arm robbery is $1,244. But the median loss from an occupational fraud case is $140,000. Furthermore, the street criminal likely has a police record whereas the person who embezzles from a company is usually someone seen on a daily basis, and has never been arrested. The worst part is it's more often than not a trusted long-term employee. You can read more about the study at http://www.fraud-magazine.com/article.aspx?id=4294978549.
Joe Rodriguez is the principal CPA at Rodriguez Holland and is also a certified fraud examiner. He just received his Chartered Life Underwriter which is the nation's foremost professional designation for those in the life insurance field.
Joe earned his bachelor's degree in accounting from St. Mary's University. He worked as an auditor and computer audit specialist at KPMG Peat Marwick. He subsequently joined Carneiro Chumney & Co. where he became a partner, in 1981 he founded his own firm Rodriguez Holland & Co., P.C. In addition to being a CPA, Joe is also a certified financial planner. He provides litigation support and has been an expert witness in numerous cases. He is a member of the American Institute of Certified Public Accountants, the Texas Society of Certified Public Accountants, the Association of Certified Fraud Examiners, and is a Transamerica financial representative.
About the company:
Rodriguez Holland & Co PC provides outstanding accounting services and retirement planning to clients because of their dedication to the three underlying principles of professionalism, responsiveness and quality. The CPA firm was established in 1981 and is highly respected in the community. By combining their expertise, experience and the energy of the staff, each client receives close personal and professional attention. Their high standards, service and specialized staff spell the difference between their outstanding performance and other firms. Rodriguez Holland & Co PC makes sure that every client is served by the expertise of the whole firm. Visit their website for more information at http://www.cpasat.net.