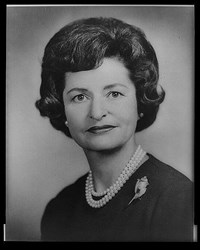 New York, NY (PRWEB) October 25, 2013
This update will include the biographies of men and women who recently died and who had a significant impact on American society and American culture during their lifetime. These newly added biographies will be freely accessible to global readers until the April 2014 update.
"I was struck by the unusually robust number of women," says ANB General Editor Susan Ware. "Indeed, these women are an excellent introduction to the breadth and variety of American women's history, from first ladies Lady Bird Johnson and Betty Ford to beloved culinary figure Julia Child to politicians Shirley Chisholm and Maurine Neuberger."
Female activists are well represented by Angie Debo and Jo Ann Robinson, scholars by Carolyn Heilbrun, Lucy S. Dawidowicz, and Jeannette Howard Foster, and writers by Tillie Olsen and Meridel LeSueur. Playwright Wendy Wasserstein and actresses Donna Reed, Jane Russell, and Arlene Francis depict the worlds of theater, film and television.
Other additions include J.D. Salinger, Robert Altman, and Sidney Lumet. These biographies will join an ever-growing collection of nearly 19,000 biographies already online.