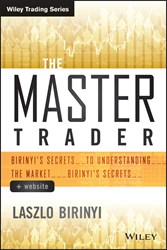 (PRWEB) October 30, 2013
Wiley is pleased to announce the publication of The Master Trader, by noted money manager and president of Birinyi Associates, Laszlo Birinyi.
For more than forty years, Laszlo Birinyi has been one of the financial world's leading voices—a brilliant trader, prognosticator, and unique personality unafraid to speak hard truths that rattle the cages of Wall Street. In his new book, The Master Trader: Birinyi's Secrets to Understanding the Market(Wiley; November 2013), he debunks widely accepted, but often faulty, financial advice through hard, realistic scrutiny of financial analysts, experts, academics, and even Nobel Prize winners. He emphasizes the marketing incentives that too often override truthfulness in the stock market, befuddling investors and leading to overwhelming economic strain.
With a thorough but no-nonsense tone, Birinyi exposes technical analysis and its potential for failure, demystifies the business protocol of Wall Street, and deciphers trading indicators, anecdotal data, and price gaps. Brimming with insider strategies and personal trading vignettes, The Master Trader addresses:
•Market changes that will likely occur as Spyders adjust in pre-trading
•Techniques for predicting the future success of a stock that reports better than expected earnings
•Methods for determining when to buy or sell stock
•The real function of money flows as a fundamental input instead of a technical indicator
•How to use magazines and newspapers, which are actually databases in disguise, to your advantage
•The futility of stock market research as an indicator of the future instead of an assessment of the past
Combining case studies and real data with Birinyi's fearless insights and trademark wit, The Master Trader is a rare window into the mind of a master. Read this book less as a cheat sheet for making money than a guide to not losing it. In today's struggling economy, that may be enough to come out on top.
"Trading is a game," asserts Birinyi, and "like all games, there are winners and losers. Hopefully, you will emerge a winner by understanding the reality of today's markets and being aware of the land mines and pitfalls."
A companion website with Premium Content is also available.
Laszlo Birinyi is the founder and President of Birinyi Associates, Inc. In 1976, he joined Salomon Brothers as the Head of Equity Market Analysis and developed the firm's weekly commentary, Stock Week. He has developed countless market tools, the most famous being the widely recognized Money Flows tool. In 1989, Birinyi began his own firm, Birinyi Associates, and served as Global Trading Strategist for Deutsche Bank Securities from 1998 to 2002. A frequent guest on business news shows and broadcasts, Birinyi has been inducted into the Wall $treet Week Hall of Fame and named one of Smart Money's "Power 30" market movers. He holds degrees from the University of North Carolina at Chapel Hill and the New York University Stern School of Business Administration.