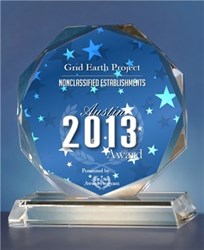 Austin Award Program Honors the Achievements of the Grid Earth Project
Austin, Texas (PRWEB) October 25, 2013
Each year, the Austin Award Program identifies organizations that we believe have achieved exceptional success. These are local organizations that enhance the positive image of Austin organizations through service to others. These exceptional organizations help make the Austin area a great place to live, work and play.
The Grid Earth Project distributes safe, solar light to remote villages and communities in developing nations worldwide. Through their efforts, lives are being saved, injuries and illnesses are being avoided, education is being enhanced and progress is being made to end energy poverty. Nearly one fourth of the world population lives without access to safe light and uses kerosene or other dangerous fuels for indoor lighting causing more than 2.5 million deaths per year.
Various sources of information were gathered and analyzed to choose the winners in each category. The 2013 Austin Award Program focuses on quality, not quantity. Winners are determined based on the information gathered both internally by the Austin Award Program and data provided by third parties.
About Austin Award Program
The Austin Award Program is an annual awards program honoring the achievements and accomplishments of local organizations throughout the Austin area. Recognition is given to those who have shown the ability to use their best practices and implemented programs to generate competitive advantages and long-term value for society.
The Austin Award Program was established to recognize the best in our community.
SOURCE: Austin Award Program