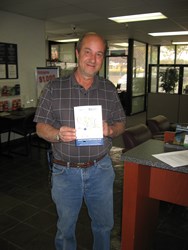 Las Vegas, NV (PRWEB) October 25, 2013
One Nevada Credit Union member, Stephen M. of Reno, NV, is headed to the Windy City after winning a place at the starting line for the Credit Union Magic Minute. Stephen will be joining nine other lucky sweepstakes winners from credit unions across the country to participate in the shopping thrill of a lifetime. On December 5, he and a shopping buddy will have 60 seconds to load their oversized shopping cart with as much merchandise from the shelves of a warehouse stacked to the rafters with high-end goodies, such as laptops, tablets, flat screen TVs and home appliances.
Stephen qualified for the random drawing on October 20th by using his One Nevada CURewards Visa® Credit card to make at least two purchases during the week of October 14.
"We're thrilled one of our members was selected," said Brad Beal, president/CEO. "The Magic Minute sweepstakes has generated a lot of interest from our cardholders and this is exactly the outcome we were hoping for. Naturally, we wish more of our members could be going to Chicago. We're just really happy for Stephen and One Nevada Credit Union. It's going to be quite an exciting moment when the horn sounds and the shopping starts."
Over 100 credit unions that offer CURewards® loyalty rewards programs to their members enrolled to participate in the Credit Union Magic Minute™ sweepstakes. Cardholders from participating credit unions then had to register for the sweepstakes and make at least two purchases with their credit union's credit or debit rewards cards to have their names entered in the drawings for sweepstakes winners.
The sweepstakes winner's package includes a 3-day/2-night trip for two to Chicago, IL. The package also includes: round-trip coach transportation to/from Chicago from the major airport nearest the winner's home, hotel accommodations, meals and the actual Magic Minute dash event.
One Nevada Background information:
With over $700 million in assets, One Nevada Credit Union is the largest locally owned, federally insured Credit Union in the state. It is one of the strongest, well-capitalized credit unions in the country with more 10.4% net worth. One Nevada has 14 branches and over 65 ATMs and serves over 75,000 members. Membership is open to all residents of Clark County, Washoe County and Nye County. The National Credit Union Administration, a U.S. Government Agency, insures member deposits at One Nevada. For more information, visit https://www.onenevada.org.