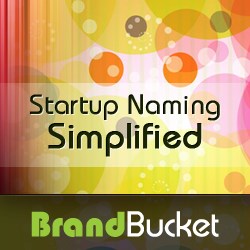 BrandBucket's affiliate program allows publishers to make an average of $110 per referred sale.
Los Angeles, California (PRWEB) October 24, 2013
Offering a referral fee of 15% of BrandBucket's commission per sale, BrandBucket's affiliate program allows publishers to make an average of $110 per referred sale. BrandBucket sales have grown by over 50% each year since its launch in 2007, and sales are expected to reach $1 Million in 2013.
BrandBucket fills the gap for small- and medium-sized businesses that want a high-quality name for their new venture but that cannot afford the time spent searching or the money spent on hiring a branding agency. Names offered for sale at BrandBucket have been carefully selected by a team of linguists and serial-entrepreneurs to meet a level of quality not found in other domain marketplaces. With names priced to sell at a level within the budget of most startups, BrandBucket's affiliate program is an attractive choice for publishers targeting entrepreneurs and business owners.
"We are pleased to add Commission Junction to our list of affiliate networks," said BrandBucket founder Margot Bushnaq. "CJ connects BrandBucket with first-rate content providers, and gives us a robust communication platform so we can coach them on becoming an advocate for our unique services."
In addition to utilizing Commission Junction to increase brand awareness and potential sales, the current BrandBucket affiliate marketing program also includes award winning affiliate network partner, ShareASale, Inc.
BrandBucket provides a variety of resources to publishers. Standard text links, colorful graphics, and tools such as a website widget and Facebook app are offered. For publishers seeking advanced integration, an API is also available.
Publishers who are interested in becoming BrandBucket affiliates can see more details about the program and sign up at http://www.brandbucket.com/affiliates.
About BrandBucket
BrandBucket is the largest and most successful online resource for finding a unique, brandable .com domain name at an affordable price. Listed names are curated and handpicked by linguist experts and listed for sale along with a logo as a ready-to-use brand. BrandBucket acts as an escrow agent between the domain owner and the buyer, making the entire purchase an easy and secure process for both parties. http://www.brandbucket.com
About Commission Junction
Commission Junction, a division of ValueClick, Inc., facilitates and supports equitable, lucrative relationships between advertisers and publishers. Many of the world's most widely recognized and highly specialized brands run their pay-for-performance programs on CJ's innovative platform. http://www.cj.com
About ShareASale, Inc.
Founded in 2000, ShareASale is an affiliate marketing network based in Chicago, Illinois. ShareASale services two customer sets in affiliate marketing: the affiliate, and the merchant. Merchants use ShareASale to implement, track, and manage their affiliate program. Affiliates use ShareASale to find products to promote, and earn commission for referrals on those products. ShareASale is among the largest U.S. affiliate networks in terms of number of advertisers who are using an affiliate network to manage their affiliate program. http://www.shareasale.com