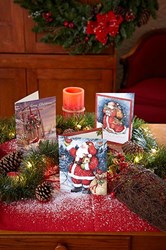 Susan Winget is a one-of-a-kind artist who has a gift of bringing beauty and life to anything she paints.
Waukesha, WI (PRWEB) October 28, 2013
The LANG Company has recently named Susan Winget as LANG's Artist of the Month for the month October. Susan Winget's beautiful artwork is featured on LANG Wall Calendars, Christmas Cards, Coffee Mugs and Dinnerware. She has been a key artist in the shaping of LANG's new memorable gifts for this holiday season.
LANG's Director of Brand Management, Steve Anderson says, "Susan Winget is a one-of-a-kind artist who has a gift of bringing beauty and life to anything she paints. Her artwork fits perfectly on all LANG products."
Winget's most popular artwork can be found in the Heart & Home collection, featuring Wall Calendars, Engagement Planners, Pocket Planners, Plan-it Calendars and Note Cards. Her other collections feature artwork on lovely stationery collections, ceramic coffee mugs, travel mugs and ceramic dinnerware collections.
Susan Winget's artwork is also featured on LANG's new favorite items for the 2013 holiday season; Boxed Christmas Cards and Personalized Christmas Cards. LANG Boxed Christmas Cards are a timeless favorite that have become an important to many families year-after-year. The inspirational art and heartfelt inscriptions help to spread joy and love throughout the season. More recently, LANG Personalized Christmas Cards have become a fresh favorite among many. Featuring the same quality and beautiful designs of traditional LANG Christmas Cards, the Personalized Christmas Cards allow you add your own family photos and write your own Christmas message.
The LANG Company has been the industry leader in beautiful Wall Calendars, Christmas Cards and Coffee Mugs since the company was founded in 1982. Known for its vibrant and unique artwork from world renowned artists, LANG also prides itself in quality products and one-of-a-kind art. LANG is also known for lovely stationery, dinnerware collections, home décor, outdoor décor and a wonderful assortment of gifts. Visit lang.com for additional information.