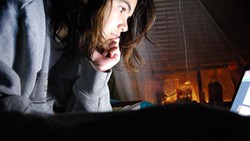 You have restrictions for the TV and movies why wouldn't you have restrictions for the internet and social networking. It just makes sense!
St. Thomas, Ontario (PRWEB) October 27, 2013
By working together with the specialists at the company and supplying some confidential information about social networking accounts, cyberbullyshield.com can monitor the information going out from, and coming in to, a child's accounts (home internet and cellphone).
Cyberbullyshield.com will report bi-weekly to the parents (and if desired, the child as well) via a simple color-coded report:
Green means that no problems have been encountered during that period.
Yellow means some inappropriate language or imagery has been detected.
Red means that there may be a high probability of cyber-bullying, adult materials, or sexting.
Cyberbullyshield.com believes that the best approach for the family to take is one of mutual respect and responsibility for what is said and done on the Internet. A social contract of sorts may prevent the feeling of being spied on for the child. In most homes there are rules for TV watching with parental controls in place for adult materials, and, doing the same thing for your children's internet use, including his/her cell phone, just makes sense.
It is quite normal for underage children not to think too much about consequences or their future when living or playing in the moment on the Internet, however, one mistake may end up causing reputation and digital footprint problems now, as well as later in life.
There is help available now for parents/guardians and people of trust to protect the ones they love.
But, if the unthinkable does happen and a child becomes involved in a cyber-bullying situation, Cyberbullyshield.com offers services that can help after the fact.
Cyberbullyshield.com has proprietary software that can search and locate identified posted, unauthorized pictures or images on the public domain.
The unwanted materials can be removed by having the parent authorize the company to begin the takedown notice process. Materials cannot be removed from personal computer hard drives, however, if re-posting to the public domain recurs, the new locations will be added to the reporting and takedown system for the next six months free of charge. Cyberbullyshiled.com will also work with the parent and the proper legal authorities to develop evidence, if required, on an individual case-by-case basis.
Cyberbullyshield.com will keep all materials confidential. When locating offending images, the company never stores nor does any employee see the image.
Visit http://cyberbullyshield.com for further details on the services offered, terms and conditions, and pricing.