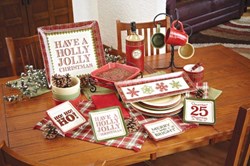 All of the lovely pieces coordinate great with our tablecloths, table linens and accent pieces.
Waukesha, WI (PRWEB) October 30, 2013
LANG Company, the online Home Décor and gift retailer, announced today the new winter 2013 product line.
Some of the top quality items include Christmas cards, kitchen and dining dinnerware, décor for Thanksgiving, scented candles, decorative stockings, Christmas-themed stacked boxes, and canvas wall art. Customer Rita Schacht recommends these products saying, "All of the lovely new pieces coordinate great with our tablecloths, table linens, and accent pieces. Many of the pieces even feature art by LANG Artists."
Artists such as Susan Winget who was recently awarded LANG artist of the month has masterfully created custom Christmas cards and calendars for the artistic individual. These cards are for anyone looking for a unique gift not found at the common card store.
LANG Company is proud to announce its other new product offerings such as new Home Décor items and Kitchen and Dining Thanksgiving & Harvest Dinnerware. Some of these new items include Holiday Trimming Scented Candles with decorative tin, holiday glass window art, and holiday picture frames.
The LANG Company has been the industry leader in beautiful Wall Calendars, Christmas Cards, and Coffee Mugs since the company was founded in 1982. Known for its vibrant and unique artwork from world renowned artists, LANG also prides itself in quality products and one-of-a-kind art. LANG is also known for lovely stationery, dinnerware collections, home décor, outdoor décor, and a wonderful assortment of gifts. Visit http://www.lang.com for additional information.