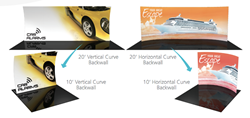 APG Exhibits is offering 5% off of both hardware and graphics for all 20' Formulate Backwalls through the end of November 2013.
Grayslake, IL (PRWEB) October 25, 2013
APG Exhibits' Formulate Tension Fabric Displays recently received a unique hardware upgrade, which is being promoted with a special 5% offer via the APG Exhibits website. Two of these high-end trade show displays - the 20' Horizontal Curve and the 20' Vertical Curve - now have the ability to convert to their 10' counterparts without any need for purchase of additional hardware. This upgrade creates a display ideal for exhibitors who require flexibility in their exhibit area's setup, and sets apart the Formulate as one of the more useful displays available today.
To get the word out about this significant improvement, APG Exhibits is offering 5% off of both hardware and graphics for all 20-foot Formulate Backwalls through the end of November 2013. Customers can simply use coupon code "formulate5" at checkout to instantly receive the discount.
"Our customers frequently request display options that can convert easily and inexpensively from 20-foot orientations to 10-foot orientations using the same hardware pieces," explained APG Exhibits President Matt Baron, "and these two Formulate Backwalls fit the bill perfectly."
The Formulate series of tension fabric displays makes use of snap-together aluminum tubing coupled with dye-sublimated knit polyester graphics to create one of the cleanest and most dynamic displays on the market. Specifically made for companies that make use of both 10' and 20' exhibit booth spaces, the two curved Formulate systems require only the purchase of a supplemental 10' fabric graphic to make the full adjustment, and all hardware pieces needed for the conversion are included with the 20' kits.
Baron continued, "As trade show season kicks into gear, APG Exhibits is looking to provide even greater savings for our client base on the industry's best and most functional displays. We're excited for exhibitors new and old alike to take advantage of this great limited-time promotion."
For more information about APG Exhibits or the Formulate series of tension fabric displays, please contact APG Exhibits at 866-752-2192, or use the email link provided.
---
APG Exhibits is a premier online provider of trade show displays, outdoor exhibits, custom booths, promotional giveaways, custom banners and more. APG Exhibits' mission is to provide high-quality trade show display products and outstanding customer service at the guaranteed lowest prices. Contact Customer Support at 866-752-2192 or visit apgexhibits.com for more information.