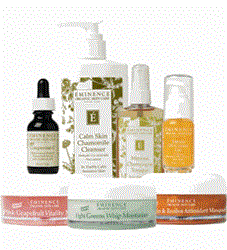 Chicago, Illinois (PRWEB) October 26, 2013
Red Currant, a product in the new Youth Shield Collection, consists of a full line of healthy, cosmetic-chemical free products to meet every skincare requirement. Made in Hungary, the formula for each of the products includes the highest quality combinations of fruit, flowers, herbs and vegetables.
The Eminence Red Currant Youth Shield Collection line includes exfoliating cleanser, mattifying mist, balancing concentrate, rapid infusion masque and protective moisturizer broad spectrum SPF 30. Each of these items is ideal for preventing the early signs of aging and is excellent for skin types normal to combination. A look at the ingredients in the products is evidence of that. Take, for instance, the Eminence Red Currant Exfoliating Cleanser: It is a gel facial wash with ground olive seed for exfoliation and cleansing as well as antioxidants to prevent free radical damage. It is formulated with tea tree oil, which is very effective at preventing breakouts and overall the cleanser works to maintain the skin's youthful appearance and reveal a luminous, supple complexion.
Customers do not have to guess at what the benefits of the products may be before they purchase because each feature is clearly listed on the easy-to-navigate Skin1.com site. In the case of the moisturizer, it removes dirt, oil and other impurities; polishes skin and unclogs pores; maintains a young-looking appearance with antioxidant protection and prevents breakouts. Each of those benefits assist in leaving the skin clean, vibrant, comfortable and protected against outside elements.
Youth Shield Collection's top-quality, organic products are reasonably priced from $38 to $68, and every order receives free shipping and samples. Customers can find more information about the Youth Shield Collection and purchase by visiting http://www.skin1.com/eminence-shop-by-collection.html. Customers can also keep up with Eminence and its wonderful collections by following them through social media: http://www.pinterest.com/eminenceorganic/, https://twitter.com/EminenceOrganic and https://www.facebook.com/EminenceOrganicSkinCare.
Skin1.com is an authorized retailer of Eminence products and also carries other collections for the brand. For additional information about the Youth Shield Collection as well as Eminence visit http://www.skin1.com/eminence-shop-by-collection.html.