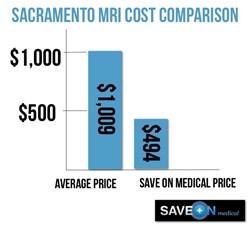 10.1% of the 2.1 million residents in Sacramento are uninsured
Sacramento, California (PRWEB) October 29, 2013
Save On Medical now has pricing for Sacramento area physicians on their consumer-driven healthcare website. Patients can compare doctors in their area and shop online for deals on medical procedures such as MRI scans, CT scans, x-rays or mammograms.
In Sacramento, The California Healthcare Foundation records 10.1% of the 2.1 million residents are uninsured. As per Kaiser's 2011 data, California is tied for the state with the 4th highest uninsured population at 20%.
The Kaiser Family Foundation recently conducted a survey throughout California, which found that "one in five said they've never had health insurance." It's also a general assumption that those without health insurance receive lower quality care or do not receive the necessary care at all.
This doesn't have to be the case. Sacramento is still full of great quality healthcare providers. Those without health insurance can still find those offices at a quality price.
About Save On Medical
Save On Medical is a website for patients shopping for and scheduling affordable radiology procedures. Patients can compare physicians based on price, quality and convenience. Save On Medical allows for price and quality transparency in the health care market, helping patients make smart consumer-driven healthcare decisions. Just like travel websites like Hotels.com and Travelocity, Save On Medical provides patients with a list of options, and the ability to pay for medical procedures at a fraction of the price.