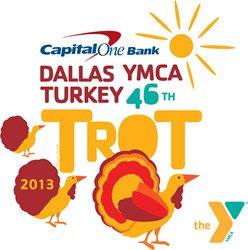 Dallas, TX (PRWEB) October 24, 2013
The Dallas YMCA Turkey Trot, Reel FX and Relativity Media today announced a partnership featuring the upcoming Thanksgiving holiday animated comedy, "Free Birds," in a co-branded marketing campaign which launches this week and ends on Thanksgiving Day with the Capital One Bank 46th Annual Dallas YMCA Turkey Trot. "Free Birds" stars Owen Wilson, Amy Poehler and Woody Harrelson in the story of two buddy turkeys from opposite sides of the track who must put aside their differences and team up to travel (or trot) back in time to change the course of history – and get turkey off the menu for good. With themes of friendship, adventure and being part of a "flock" as well as a storyline focused on two turkeys, "Free Birds" was a perfect fit for the Dallas YMCA Turkey Trot's first film partnership. The film, which was also made primarily in Dallas, Texas at Reel FX's Deep Ellum space, will hit theaters across the country on November 1, 2013.
The partnership includes:

Co-branded advertisements across television, radio, print and digital media
Promotional material displayed at more than 20 YMCA Dallas branch locations as well as YMCA's across the country
Turkey Trot registration information linked on the official "Free Birds" movie website
"Free Birds" and Turkey Trot signage will be displayed on select DART (Dallas Area Rapid Transit) buses and rail station stops
"At the Dallas Y, we have had 45 years of exciting and fun thanksgiving mornings as we have welcomed over a half million trotters to celebrate family, fun and fitness. Our partnership with 'Free Birds' and REEL FX will take it all to a new level this year. This will be a landmark event in the life of the Y and our community," said Gordon Echtenkamp, president and CEO of the YMCA of Metropolitan Dallas. Proceeds raised by the Capital One Bank Dallas YMCA Turkey Trot help provide funding for programs vital to the community including diabetes prevention, YMCA Afterschool services focused on healthy lifestyles, curriculum assistance, physical health and sports enrichment, an Urban Swim program that teaches children life-saving water skills and youth obesity programs aimed at encouraging family wellness through fitness and nutrition.
"Our partnership with the leadership of the Dallas YMCA was critical to launching the overall promotional program between 'Free Birds' and YMCA Turkey Trots across the US," said Chuck Peil, Head of Business Development and Strategic Partnerships for Reel FX. "The tenants of family, character and leadership are important to the YMCA and align with our films message of fun, family and the 'flock'. Reel FX is proud to be part of this unprecedented collaboration."
"By partnering with such a well-known and respected community like the YMCA, which is celebrated for its family values and tradition, we're able to bring fun, classic characters like Reggie and Jake from 'Free Birds' off the big screen and into our community's holiday activities. It's exciting to be a part of such an iconic Dallas tradition as the Turkey Trot, and start a new tradition of great partnerships," said Katherine Harper, director of marketing/PR at Reel FX.
For additional resources involving the Dallas YMCA please visit http://www.ymcadallas.org/ or connect with them on Facebook, Twitter, and YouTube. Fans can also gobble up all things "Free Birds" by following the #FreeBirds hashtag or visiting the movie's Facebook, Twitter and YouTube channels.
About the YMCA
The Y is one of the nation's leading nonprofits strengthening communities through youth development, healthy living and social responsibility. Across the U.S., 2,687 Ys engage 21 million men, women and children – regardless of age, income or background – to nurture the potential of children and teens, improve the nation's health and well-being, and provide opportunities to give back and support neighbors. Anchored in 23 North Texas communities, the Dallas Y has the long-standing relationships and physical presence not just to promise, but to deliver, lasting personal and social change. http://www.ymcadallas.org
About Relativity Media
Relativity (http://www.relativitymedia.com) is a next-generation studio engaged in multiple aspects of entertainment, including film production; financing and distribution; television; sports management; music publishing and digital media.
The studio has produced, distributed or structured financing for more than 200 motion pictures, generating more than $22 billion in worldwide box office revenue and earning 73 Oscar® nominations. Recent films include: Safe Haven, Act of Valor and Immortals, the latter both opening number one at the box office in their debut. Relativity's other films include the eight-time Oscar® nominee The Social Network as well as Limitless and two-time Oscar®winner The Fighter. Upcoming films include Luc Besson's The Family, starring Oscar® winner Robert De Niro, Oscar® nominee Michelle Pfeiffer and Oscar® winner Tommy Lee Jones.
About Reel FX
Reel FX is a movie studio that develops and produces animated films. The company's feature slate includes Free Birds with Relativity Media which debuts in theaters on November 1st, 2013, the day of the dead-themed project The Book of Life with Fox which will be released in theaters on October 17th, 2014 and an adaptation of the Beasts of Burden comic book series.
Reel FX launched its feature length development and production slate in 2010 after almost 20 years of experience as an award-winning one-stop studio for the creation of animated content including films, special attraction/live venue projects, commercials, and interactive projects for companies like DreamWorks Animation, Fox, Warner Bros. and Universal Studios. The studio continues to do short form work including commercials, music videos and live-event animation.
Since starting the development and production of feature films, Reel FX has aligned itself with some of the most recognized and respected names and brands in the entertainment industry for its projects including Free Birds (Jimmy Hayward, Scott Mosier), The Book of Life (Guillermo Del Toro, Jorge R. Gutierrez) and the Beasts of Burden adaptation (Dark Horse Comics, Andrew Adamson, Aron Warner).
###