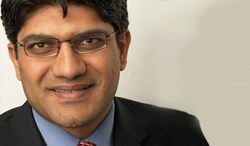 Detroit, Mich (PRWEB) October 26, 2013
NextEnergy in partnership with Nextek Power Systems will host Jigar Shah's book party for his newly released book, Creating Climate Wealth: Unlocking the Impact Economy. In his book, Shah describes an opportunity to turn the biggest challenge of our lifetime - climate change - into a $10 trillion dollar new economy.
WHO: Jigar Shaw is a renowned clean energy entrepreneur, visionary, solar company founder, and author. Shah founded SunEdison in 2003, served as the first CEO of the Carbon War Room, and currently is the CEO of Jigar Shah Consulting.
THE BOOK: Part autobiography, part treatise, in Creating Climate Wealth, Jigar Shah shows how all of us can participate in the largest wealth creation opportunity of our time. Shah explains that proven, scalable climate solutions, using an infrastructure-as-a-service model, will create the next economy. The book draws lessons from what Shah learned in the creation and success of SunEdison and as CEO of The Carbon War Room. The key message is that climate wealth is at our fingertips -- accessible to entrepreneurs, investors, Governments, NGOs, and corporations, and will create thousands of jobs.
WHERE: NextEnergy Center, 461 Burroughs St, Detroit, MI 48202.
WHEN: Monday, October 28th, from 12:00 p.m. to 2:00 p.m.
For more information about the event, visit climatewealthbookpartywithjiga.splashthat.com.
About NextEnergy:
Founded in 2002 as 501(c)(3) nonprofit organization, NextEnergy is one of the nation's leading accelerators of advanced energy technologies, businesses and industries. NextEnergy drives technology demonstration and commercialization; delivers industry and venture development services; and provides an authoritative voice in the public sector. Since its inception, NextEnergy has helped attract more than $1 billion of new investment in the state of Michigan, including programs in excess of $150 million in which NextEnergy has directly participated. For more information, visit nextenergy.org.