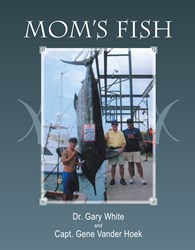 God uses his creation for his purposes in extraordinary ways.
Dallas, Texas (PRWEB) October 28, 2013
The Pacific blue grander, an elusive native to the shores of the Hawaiian Islands, is one of the largest fish one could hope to catch. Captain Gene Vander Hoek has four under his belt, his most recent catch with novice fisherman and author Dr. Gary White.
For White, catching one of these monster fishes proved to be a life-changing event. In his book "Mom's Fish," White shares a miraculous tale of his unforgettable fishing journey with a grieving captain and crew.
"Gene named the fish for his mom Rosalie," White said. "She had recently died and she was on his mind. The fish was for her."
Not only will readers be a part of a remarkable adventure that proves the power of prayer in "Mom's Fish," but also they will gain insight into the unique sport of billfishing. White's hope is that his once-in-a-lifetime experience will reveal to readers how God uses his creation for his purposes in extraordinary ways.
"This was a true miracle," White said. "The crew and I were all going through a time of great loss and grief. Our faith and prayer made all of this possible. The book proves the power and providence of God during challenging times."
"Mom's Fish"
By Gary White
ISBN: 978-1-46273-078-0
Available at Amazon, Barnes and Noble, and CrossBooks online bookstores.
About the Author
Gary White is a general surgeon who has had an active practice for more than 30 years. He is an avid angler whose main interests are in billfishing and flyfishing. He currently resides in Dallas, Texas with his wife, Brenda.
Capt. Gene Vander Hoek, the co-author of the book and captain of the fishing expedition, has been fishing since the age of three. He holds 32 world records and is the only captain to ever catch four Pacific blue marlin grander.
EDITORS: For review copies or interview requests, contact:
Publicist: Courtney Skells
317-602-7137 | cskells(at)bohlsengroup(dot)com
(When requesting review copies, please provide mailing address.)