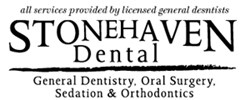 Salt Lake City, Utah (PRWEB) October 24, 2013
As leading dentists in Salt Lake City, Stonehaven is expanding their services by opening a new location in South Jordan. Clients are responding positively to the new location, adding convenience and saving driving time for patients who live closer to the new area. Placing the new office in a growing location will also benefit the company in the long run. With new communities being built in Daybreak and The District, this new location offers middle ground location to a high volume of new residents.
Stonehaven dental offices in Utah offer various procedures for their client's convenience. Sedation dentistry, cosmetic dentistry, pediatric dentistry, dental implants, dentures, orthodontics, oral surgery, and general dentistry are all available to their clients in one spot. With expert staff and a high variety of cosmetic and oral procedures, Stonehaven is providing full mouth restoration for South Jordan residents. The convenient new location is centered between the growing Daybreak community and new neighborhoods that are being built in The District, making it an ideal location for community growth.
The new location came as an addition to their three other locations. Wanting to expand into a growing area, South Jordan seemed to be the perfect choice due to their rapidly expanding community. As the company has expanded northward, more Utah residents are gaining access to qualified professionals who hold the patient's interests at heart. Originating in Orem and Lehi, the dentists at Stonehaven had the goal to provide quality care to as many people as possible. More expansions are planned for the future, but the company is happy with the progress they've made.
Clients can bring the whole family to Stonehaven Dental because they are fully trained to work with people from infancy into their senior years. It is important for these dentists in Salt Lake City that their clients are at ease in their office especially if they have to undergo a major procedure such as root canals or wisdom teeth extraction. Anxiety is often one of the main hindrances in the dental field. Stonehaven is dedicated to relieve anxiety by providing education about their procedures and quality customer care.
Stonehaven Dental wants to make sure each dental experience is a positive one. With four locations including Draper, Lehi, Orem, and South Jordan, Stonehaven makes it convenient for patients to get the dental work they need. Clients can be sure that they will get nothing but the best service when visiting their offices. For more information, or to find out how to schedule an appointment, visit their website at http://www.stonehavendental.com.