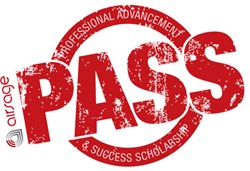 AirSage wants to connect promising young minds with educational opportunities
Atlanta (PRWEB) October 25, 2013
Three members of Young Professionals in Transportation (YPT) have been named as recipients of the AirSage PASS: Professional Advancement & Success Scholarship.
Presented quarterly by AirSage™—a pioneer in digital population analytics and the largest provider of consumer travel trends and population movement intelligence in the U.S.—PASS funds are awarded exclusively to YPT members as a way to support the continuing education and professional development of emerging leaders in the field of transportation planning.
"The next generation of transportation professionals is vital as our industry merges technology with traditional transportation planning methodologies," said Cy Smith, Founder and CEO of AirSage. "As a provider of advanced transportation planning technology and data, AirSage wants to connect promising young minds with educational opportunities that can grow their knowledge and advance the industry as a whole. The AirSage PASS allows us to do just that."
Many strong applications were submitted for consideration during the inaugural PASS application and award period. Scholarship recipients include:
LAUREN CARDONI: Greenbuild International Conference and Expo
Cardoni, a recent graduate from the Master of City and Regional Planning program at the Georgia Institute of Technology, is using the AirSage PASS to attend the 2013 Greenbuild International Conference and Expo in Philadelphia in November. The conference offers an opportunity to connect with LEED professionals and industry experts as well as gain insights into sustainable design and environmentally responsible development. AirSage PASS funds also opened the door for Cardoni to attend the Women in Green Power Breakfast at the conference.
"The opportunity to attend Greenbuild without financial burden will enable me to fulfill all of the continuing education requirements for my LEED accreditation and enjoy the whole experience completely stress-free!"
RORY ROWAN: Association of Pedestrian and Bicycle Professionals (APBP) Professional Development Seminar (PDS)
The AirSage PASS will reimburse Rowan—a Design and Special Projects Engineer with the Virginia Department of Transportation—for costs of attending the September APBP Professional Development Seminar in Boulder, Colorado. An active member of the Institute of Transportation Engineers, the American Society of Civil Engineers and the American Planning Association, the conference will provide Rowan with additional exposure to state-of-the-industry practices surrounding transportation and sustainable, livable communities.
"This conference is held only every other year so it was a unique opportunity to gather with advocates, engineers, planners from public and private sectors who are passionate about bicycle and pedestrian issues. I am already using what I learned in my work helping to transform the Richmond region into a more bicycle and pedestrian friendly place."
DANIEL TISCHLER: Transportation Research Board (TRB) 93rd Annual Meeting
Tischler, a Transportation Planner with the San Francisco County Transportation Authority, will use his AirSage PASS award to attend the TRB 93rd Annual Meeting scheduled for January 2014 in Washington, D.C.
"I revel in the opportunity to use models to (attempt to) answer questions about transportation and land-use relationships, sustainability, public health and safety. Attending the TRB annual meeting will allow me to dig deeper into this area and establish the connections necessary to become an integral member of the travel modeling community."
The submission period for the next, quarterly grant period for the AirSage PASS is now open. Applications must be submitted by midnight (Eastern), December 13, 2013. Winners will be announced on January 3, 2014.
About AirSage
AirSage™—a pioneer in population analytics—is the largest provider of consumer locations and population movement intelligence in the U.S. Each day, AirSage uses patented technology to capture and analyze more than 15 billion anonymous, real-time, cellular-signal data points to identify travel patterns and transportation trends. Partnerships with the nation's largest wireless carriers give AirSage exclusive access to data from more than 100 million mobile devices. Analyzed and aggregated, AirSage data provides actionable insights into where and when people travel and is transforming the transportation industry, commercial enterprises and a diverse range of industries. Find AirSage online at http://www.airsage.com and on Twitter @AirSage #AirSagePASS
About YPT
YPT is a professional organization for young transportation professionals based in Washington, DC with chapters around the country. YPT aims to provide career guidance, fellowship, and networking opportunities for young professionals in the transportation field through seminars, meetings, and happy hours. Find YPT online at http://yptransportation.org/ and @YPTvoice.