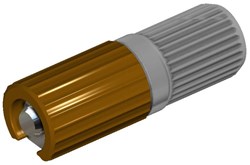 The TI-300 Series Torque Inserts set the new standard for performance, ease of use, and long life...
Saint Paul, MN (PRWEB) October 31, 2013
Reell Precision Manufacturing, a world leader in small package position control, is proud to announce the introduction of its latest positioning innovation, the TI-300 Series of torque inserts.
Available in 3 package sizes (TI-320, TI-340, TI-360), and with 3 shaft-end attachment options, the TI-300 Series offers a wide variety of options to meet diverse application needs. Depending on model, torque capabilities range from 0.5 to 10.0 N-m (4.4 to 88.5 lb-in) with symmetric or "one-way" torque options available, and it's fully qualified life of over 50,000 cycles raises the bar for long-life premium position control.
TI-300 Series torque inserts are designed to be press-fit into round holes for quick and easy installation in just one step, eliminating the need for mounting hardware, reducing the overall cost of customer solutions, and enhancing cosmetics by removing the visible appearance of a hinge. Mounting profile options include exposed knurled shaft end, a knurled zinc adapter for installation into plastics, and One-way adapter for mounting TI-340 or TI-360 versions.
Global Product Line Manager John Schannach is excited about the quality and versatility of the TI-300 Series, "The 300 series raises the bar on torque insert performance. It is the result of more than 10 years of experience and refinement in insert technology. It's ease of installation, range of available torques, and variety of mounting options, allow the torque insert concept to be used in a wider range of customer applications."
The TI-320 will be available for order in early December, with remaining models available in early 2014.
Reell Precision Manufacturing provides high-quality innovative solutions to transmit torque, control angular position and protect delicate components from excessive force. Combining the world's most precisely controlled torque technology with the industry's most experienced engineering team guarantees a perfect product fit for customer application. With facilities on three continents, Reell's responsive global customer service and world class manufacturing ensures exceptionally easy ordering and on-time delivery.
Follow Reell on twitter: @reell