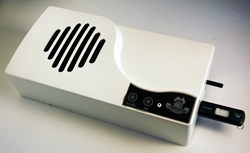 You Can't Knock It
Sparta, NJ (PRWEB) October 28, 2013
It doesn't matter what the Holiday is! Whether it is Halloween, Christmas, Easter or Valentine's Day, the Tommyknocker Digital Doorbell can play any MP3 audio file one finds appropriate for any occasion. That's because the Tommyknocker is actually an MP3 player disguised as a doorbell. The Tommyknocker uploads digital files much like any MP3 player, through a USB port. This eliminates the analog cables and microphones found on other types of doorbells that sample an analog signal and store it on a memory chip. Storing sound files on the supplied memory chip is simple and efficient by simply dragging the selected files over to the drive.
The Tommyknocker is shipped with everything necessary to make installation as hassle free as possible. Because the doorbell must be hardwired to a 12 volt transformer, it is shipped with a mounting plate, wiring pigtail and hardware to make the transition from your existing doorbell easy. If the customer is doing a new installation, a low 12 volt doorbell transformer must be purchased. The Tommyknocker is constructed with a 12 gauge galvanized steel chassis that is designed to last for decades. Bolted to chassis is a 4" full range speaker, capable of playback levels over 90 dB SPL. Volume is also adjustable with a volume pot. The chassis serves also a mounting template for the PC board, which is secured with steel screws and washers to reduce vibration. The entire chassis assembly is in turn screwed to a plastic housing and connects with hand wired, heavy cabling. This assures that the doorbell is built to last for many years.
The doorbell industry, like most 21st century technology, is changing into a "must have" digital, tech savvy business. Predominance LLC, who manufactures the Tommyknocker says the next step for the doorbell is wireless uploads via a phone app. The Tommyknocker is shipped with a formatted USB stick and comes with 24 hour assistance. Perhaps this Holloween you might press a doorbell button that plays a scream or Bach organ Toccata, a departure from the old and into the new.