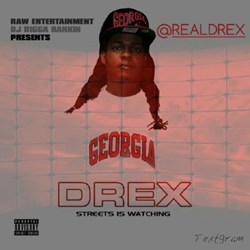 Hot new Georgia artist.
Georgia (PRWEB) October 29, 2013
Independent Artist DREX Charts National Top 200 & Record World Magazine
Release of new single "Where You From" has gained national attention and exposure for independent artist.
http://www.youtube.com/watch?v=XVcomUrOo6Q
Independent artist DREX gains national charting and attention with the release of his new single "Where You From". Currently at #1 on the Top 50 Independent, #50 on the National Top 200 and Top 50 Record World Magazine. Hip Hop artist DREX continues to gain new FM radio markets and nation wide exposure with release of new single.
Released nationally, "Where You From" has been added to six FM bds and media base monitored radio stations including; WRSV/ North Carolina, WFXE/ Columbus, WCCG/ Fayetteville, WIIZ/ Augusta, WNHT/ Indiana and WEUP/ Huntsville. The track continues to gain attention with an increased large amount of plays and new fans in North Carolina.
DREX where you from single cover.
For more information about the independent artist DREX, log onto drextv.com or email drex1024(at)gmail(dot)com.
Log onto registermymusic.com or email Musicregistri(at)aol(dot)com for more information about DREX or booking information.