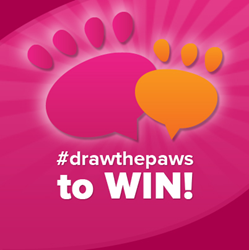 We thought this social media contest would be a fun way for MamaBear to expand their fan base and at the same time learn more about this great safety app.
Tampa, FL (PRWEB) October 24, 2013
MamaBear is an all-in-one family safety monitoring application that helps parents keep track of their children's online and off line activity. The newly updated MamaBear is available for Android users on the Google Play store and for iOS users in the Apple App Store. It gives kids the freedom they want, with the piece of mind parents deserve. The distinctive logo of the MamaBear App– a set of paw prints – sparked the creation of their latest contest idea.
Robyn Spoto, President of MamaBear shared, "Our mission is helping kids stay safe. We are very proud of that and wanted to hold a contest promoting who we are, using the MamaBear symbol. We are asking our fans and those new to our community to share the MamaBear love by participating in the first ever "Draw the Paws" contest. Protecting your kids and winning an Apple IPhone 5C have never been easier!"
To enter, draw your version of the MamaBear signature paw print in a public place and take a photo of your creation. Upload it to the MamaBear FB page or post it on your own social media site (FB, Twitter, Pinterest, Instagram, & Google+) with the hashtag #drawthepaws. Be sure your page is public, so it is searchable. Anyone may also enter by sending your photo via email to DrawThe Paws(at)MamaBearApp(dot)com.
Creativity and location/placement of the artwork will enhance your chances of winning. MamaBear will peruse the photos and narrow it down to 3 finalists. Once the 3 finalists are chosen, public voting takes place to determine the overall winner. The grand prize winner will be rewarded for their efforts by receiving a new Apple IPhone 5C with the MamaBear App preloaded on it!
Besides the Facebook contest, there's a Pinterest element to the contest with a second chance drawing for instant win gift cards. MamaBear will upload all the photos on the Draw the Paws Pinterest Board as they are received. All you have to do is follow the MamaBear Pinterest boards (including the Draw the Paws board) and re-pin your creation. You must include the hashtag #drawthepaws to have an opportunity to win the instant win gift card prizes. Contest time period is now through Oct. 29. The grand prize winner announcement occurs November 1, 2013, on the MamaBear App Facebook site in a post.
21Digital provides social media management and advertising services to MamaBear App. Kevin Marshall, President of 21Digital said, "We thought this social media contest would be a fun way for MamaBear to expand their fan base and at the same time learn more about this great safety app."
About MAMABEAR APP:
Who knew a conversation with a stranger while on vacation would inspire a new way of thinking about parenting and safety of children everywhere. A light bulb went off when a stranger described her full-time job as trying to keep track of her teenagers to an empathetic, problem solving technologist with five kids of his own. The problem and solution was vetted, drawn, tore-up, re-drawn and developed by a group of parents, digital visionaries and experienced technology entrepreneurs with a passion for fostering family unity. Our vision is a world of worry-free parenting. Our mission is to create tools that provide parents a peace of mind while giving children needed freedom. Our core values are to protect our children, honor our families, encouraging trust and respecting privacy.
About 21DIGITAL:
21DIGITAL was created to serve the growing need for businesses of all sizes to plan and execute effective and efficient online campaigns – whether it be through our Social Media Management Service, SEM (AKA Paid Search or Search Engine Advertising) or more "traditional" multi-screen opportunities such as banner ads, mobile, text and partnering with other sites to create meaningful digital promotions. 21Digital is based out of Tampa, Florida and has an office in Los Angeles, California as well.