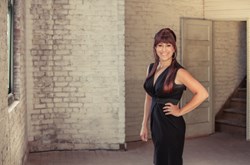 Notable trends we spoke on were video, workflow/leadflow management and branding.
San Francisco, CA (PRWEB) October 25, 2013
On October 16th, 2013, the San Francisco Association of Realtors' Young Professionals Network invited Michelle Balog and Dirk Kinley of Climb Real Estate Group to speak at a Top Producer Technology panel held at the Marlowe Sales Gallery in San Francisco. Michelle Balog was the moderator of the panel, which also included Butch Haze and Rick Teed of Sotheby's International Realty, Sara Werner Costa of Vanguard Properties, Rob Regan of Pacific Union International, and Reid Rankin of Coldwell Banker. Topics included how staff and teams were organized; what technologies were the first agents adopted and what lessons were learned from them; the primary purposes of current real estate technologies; favorite new and possible future technologies; and how technology has impacted their business.
"I was thrilled to be asked to be the moderator of some amazing agents for an incredible and well attended event. I was proud to have our top producing agent Dirk Kinley as part of the dynamic panel of agents," said Michelle Balog, Managing Sales Director of Climb Real Estate. "Being an experienced agent, I always strive to learn how to better run my business and I am always curious how other top producers run theirs and what role technology plays in their success. It was a stunning evening of knowledge and sharing."
In a statement, Dirk Kinley, Managing Director of Climb Real Estate, said, "It was an honor to speak on this San Francisco real estate technology panel. Notable trends we spoke on were video, workflow/leadflow management and branding. The feedback had been that those who attended found it particularly salient to today's condo, loft or single-family real estate agent who is now, more than ever, required to leverage technology to sustain and grow their practice."
The SFAR Young Professionals Network helps young real estate professionals excel in their careers by giving them the tools and encouragement to learn more about the real estate agency, connect with their peers, engage in their communities, and learn from more experienced agents. The YPN group in San Francisco is very popular with the agents at Climb Real Estate Group; Leasing Director Darcy Robinson was previously a chair on the committee, and many Climb agents participate in their programming throughout the year.