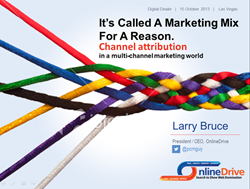 Larry Bruce gave a great presentation regarding the digital automotive industry today with the numbers to prove it. Great talk!Jasmine Watts McCombs Enterprises.
Houston, TX (PRWEB) October 26, 2013
Online Drive and ShowroomMagnet CEO Larry Bruce presented a keynote session entitled, "It's Called a Marketing Mix for a Reason, Channel Attribution in a Multi-Channel Marketing World" to a full house during last week's Digital Dealer 15 Conference in Las Vegas.
The theme of using data to measure which marketing channel has the highest impact on Leads, Shows and Sales resonated with the dealership personnel in attendance. During the session Mr. Bruce shared data from a year-long study on marketing channel contribution to overall dealership marketing strategy and shared insights on how marketing channels work together and what dealership goals should be for each one.
The study included 125 dealerships, millions of shoppers and 2,200 people surveyed. The results caught some by surprise including Automotive News reporter David Barkholz who published a column on the session, "Why a Digital Media Expert Still Believes in TV Advertising".
"There is no such thing as an expert marketer -- only experienced marketers and expert testers," said Mr. Bruce. "Marketing has become very complicated making data and testing critical for today's dealership."
Click here to view the slide deck. Larry, at the request of Digital Dealer, will be hosting an encore presentation on this subject via a webinar on Thursday October 31st at 11:30am EST. Click here to Register.
About Online Drive:
OnlineDrive is a fully integrated adaptive marketing platform including all aspects of SEM, SEO, and Website Development resulting in more Leads, Shows and Sales.
About ShowroomMagnet:
ShowroomMagnet is an Incentive Based Behavioral Marketing Tool that targets online shoppers based on their behavior with relevant and customized "Call to Action" to convert them into on-the-lot-shoppers and test drives.
Contact:
Matt Holmes
Director of Marketing
OnlineDrive / ShowroomMagnet
mholmes(at)showroommagnet(dot)com