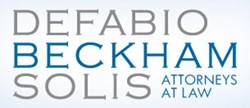 Miami, FL (PRWEB) October 24, 2013
Miami DUI Attorney Justin K. Beckham—of DeFabio, Beckham, Solis, P.A.—has been accepted into The National Advocacy for DUI Defense, LLC (NAFDD). Members of this group are considered top-tier Driving Under the Influence (DUI) lawyers in private practice in the United States, according to the organization's website. DeFabio, Beckham, Solis, P.A. is a Miami DUI law firm that focuses on driving under the influence cases located only in Miami-Dade County, Florida.
When making its selections, NAFDD first looks for best criminal defense lawyers within each state, according to the group's website. From that pool of legal professionals, the organization then chooses the attorneys who heavily focus their practice on defense against DUI charges. In the state of Florida, there were 68,464 licensed lawyers in 2013. Attorney Beckham is among only about 300 of these attorneys (or among less than 1% of all licensed lawyers in the state) to have been designated top DUI attorneys by NAFDD.
The idea behind NAFDD is to help the public find highly accomplished DUI defense lawyers for their cases. This can be especially challenging considering that there so many licensed lawyers, and considering that DUI cases may be handled by attorneys in all different types of practice areas, according to the NAFDD website. The NAFDD cited data from the American Bar Association that showed that as of 2013, there were 1,268,011 attorneys who were licensed to practice law within the U.S. and within U.S. Territories.
Being an effective DUI attorney requires having an in-depth understanding of the specialized DUI laws of one's own state. The legal professional must also have the appropriate level of skill that is needed for handling various DUI-specific legal issues. According to the NAFDD website, a few of these issues include blood testing, field sobriety test inaccuracies, issues related to field sobriety tests that are non-standardized (such as their lack of validity), the impact of interfering substances on impairment testing, laws that govern implied and expressed consent, the impact of post-driving alcohol absorption and much more.
Mr. Beckham, a fourth-generation attorney in Miami-Dade County, is a strong legal advocate who has extensive trial experience. Previously working as an Assistant Miami-Dade County Public Defender, he took almost 50 criminal cases to trial, which resulted in several acquittals being reached. He also had the opportunity to provide defense to thousands of individuals. In 2006, Attorney Beckham started his own law practice in the private sector. At his firm, he handled criminal defense cases and specifically focused on DUI defense. In 2010, he and his law partner (Attorney Helmuth Solis), were successful in obtaining more than 50 dismissals in their DUI cases. Another one of Attorney Beckham's professional achievements includes being selected for inclusion in the Super Lawyers® Rising Stars℠ list for the years of 2010, 2011 and 2012.
Because DeFabio, Beckham, Solis, P.A. only handles its DUI cases in Miami-Dade County, its attorneys are highly knowledgeable about how to navigate the local court system, including how to work with its prosecutors and judges. In addition to being equipped with a former Assistant Public Defender, the firm also has a former Assistant State Attorney. The lawyers at DeFabio, Beckham, Solis, P.A. have received many professional accolades for their high-quality work in DUI defense and criminal defense. More information about the law firm is available at http://www.duimiamilawyer.com.