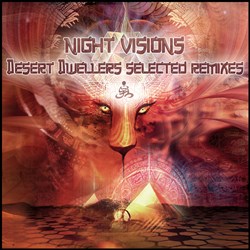 'This is not just the best work I've heard by Desert Dwellers, this is perhaps the best release in the "genre" in quite some time. Stunning.'
Boulder, CO (PRWEB) October 31, 2013
Since the dawn of the millennium, Desert Dwellers have pursued a singular vision: creating and developing an ethno-electronic musical alchemy that speaks as freely to hard-charging global bassheads as it does to laid back yogis.
 
The unity of Amani Friend and Treavor Walton's electro-organic sound is captured and showcased on this collection of remixes spanning the parallel worlds in which they simultaneously exist, demonstrating the fluent multilingualism of these sonic explorers from the future and the past.
 
Night Visions: Desert Dwellers Selected Remixes (from Black Swan Sounds; out 10/29 on CD, 11/5 digital) showcases Desert Dwellers' signature psy-chill sunrise vibe as applied to 13 tracks ranging from deep and delicate kirtan chant (Luna Ray's "Ganesha") to next-century North African ambience (EarthRise SoundSystem's "Makyen Ghrir Allah") and pure club burners (Kaya Project's "Ghasi Ram Blues").
 
The mix flows seamlessly between such Yoga music luminaries as Deva Premal, Girish and Jai Uttal, and upstart heroes from global electronica and temple bass culture like Adham Shaikh, Deya Dova and Kalya Scintilla. Add in fresh renditions of simmering soundscapes by Variant Field, Tarun and Laya Project and the bridge between two worlds is complete.
The album offers a refreshingly complete listen from start to finish, a quality noted by global dub giant Gaudi, who told Desert Dwellers, "I have listened to your new album several times and I really like it! The way you combined all the tracks creates a beautiful "sonic journey" from beginning to end, like a movie, or a book -- something that you want to follow in full from top to tail. But the beauty of this new project is that even if you listen to every tune separately, you have the same "sonic journey effect," which is pretty memorable. Very well done guys!"
Or, as one fan wrote after listening to a preview posted on Desert Dwellers' Soundcloud page, "This is not just the best work I've heard by Desert Dwellers, this is perhaps the best release in the 'genre' in quite some time. Stunning. Thank you!"
Whether you've discovered the music of Desert Dwellers via your yoga mat or the dance floor, Night Visions pull the wide variety of artists and material into a cohesive suite, covering vast territory while creating a holistic -- and deeply moving (in every sense of the word) -- musical experience.