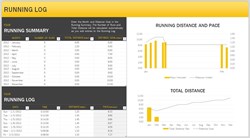 Every journey to becoming healthier and more active begins with a single step.
(PRWEB) October 24, 2013
There's no doubt that leading a healthier lifestyle can directly lead to a better quality of life. While most would like to incorporate some sort of exercise schedule in to their daily routine, knowing where to being is nearly half the battle. Charting and tracking the progress being made when beginning an exercise regimen can also be a hassle due to stresses and rigors of everyday life.
Now, an online leader in Microsoft Excel templates is offering a new line of complimentary workout templates for health and fitness enthusiasts of all levels.
"Every journey to becoming healthier and more active begins with a single step," said My Excel Templates spokesperson Ben Davidson. "That's why we've released this special collection of workout templates than can be used by both beginners and fitness junkies alike."
My Excel Templates is featuring a complimentary set of fitness logs, which includes a running log, exercise charts for men and women, a printable weight loss journal and a weight loss and blood pressure tracker template.
The site also features a collection of workout sheets, including the Total Gym workout plan, a "Biggest Loser" spreadsheet as well as printable workout routine sheets. All of the workout templates are instantly downloadable and are available to visitors at absolutely no charge.
"Beginning or continuing an exercise routine couldn't be easier thanks to these workout templates from Microsoft," said Davidson. "Even working out these days can get expensive, but these complimentary workout sheets and templates will instantly save the user both time and money."
For the new complimentary workout templates, or for hundreds of other helpful templates, calculators and spreadsheets, please visit MyExcelTemplates.com today.