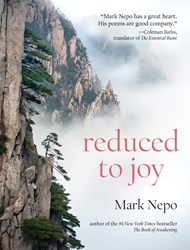 "Mark Nepo's Reduced to Joy can change how you approach the challenge of any day."—Oprah.com
(PRWEB) October 25, 2013
Mark Nepo's poetry graced the front page of Oprah.com, with six poems from his instant best-seller Reduced to Joy. The poems were hailed as a means of staying in tune with goals and pushing past the various obstacles of life.
This simple, evocative poem is one of the six chosen:
On the Ridge
"We can grow by simply listening, the way the tree on
that ridge listens its branches
to the sky, the way blood
listens its flow to the site
of a wound, the way you
listen like a basin when
my head so full of grief
can't look you in the eye."
Oprah's site prefaces the poems with the header, "Mark Nepo's Reduced to Joy can change how you approach the challenge of any day." Nepo's heartfelt poetry truly does flow off the page and straight into the soul.
Mark Nepo will be appearing in person at these upcoming events:
10/24-10/25 Sr. Mary Rose PcPhee Lecture and Workshop on Leadership and Spirituality, Austin, TX
12/4 Books, inc. Opera Plaza, San Francisco, CA
12/5 Book Passage Marin, Corte Madera, CA
Nepo will also be appearing on Oprah's Super Soul Sunday for two special episodes:
November 10 11am EST "The Big C: Healing Body and Soul"
November 17 11am EST "Oprah and Mark Nepo: Listening to the Soul"
What People Are Saying about Reduced to Joy:
"Mark Nepo has a great heart. His poems are good company."
—Coleman Barks, translator of The Essential Rumi
"Mark Nepo joins a long tradition of truth-seeking, wild-hearted poets—Rumi, Walt Whitman, Emily Dickinson, Mary Oliver—and deserves a place in the center of the circle with them."
—Elizabeth Lesser, author of Broken Open: How Difficult Times Can Help Us Grow
Mark Nepo, the New York Times bestselling author of The Book of Awakening, has been called "one of the finest spiritual guides of our time," "a consummate storyteller" and "an eloquent spiritual teacher." Now in his sixties, he has written Reduced to Joy, a book of seventy-three poems about the nature of working with what we're given till it wears us through to joy. Nepo says, "Poetry is the well from which all my books rise. It's where I always go to listen, always stunned by what arrives. I bring these poems back from the deep like shells from the sea that we can look at together." Profound and accessible, Nepo's poems are tools for staying close to what matters.
MARK NEPO is a poet and philosopher who has taught in the fields of poetry, health and spirituality for forty years. A New York Times number-one-bestselling author, he has written fourteen books and recorded eight audio projects. Mark has appeared with Oprah Winfrey on OWN TV's Super Soul Sunday and has also been interviewed by Robin Roberts on Good Morning America. His work has been translated into more than twenty languages.