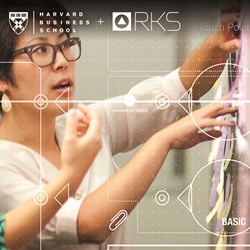 Thousand Oaks, CA (PRWEB) October 25, 2013
Pioneered by the founder and CEO of the design and innovation firm RKS, Ravi Sawhney's design methodology was first adopted into the Harvard Business Review as a case study in 2008. This popular case study was the first to outline the RKS' design philosophy for the MBA classroom setting. Integrated into many curriculums across the globe, the study aided future designers and business students by teaching them how to get into the mind of the consumer and connect consumer emotions to strategic decision making, a process that has resulted in much success for RKS clients ranging from start-ups to global giants.
Now in 2013, Harvard Business Review has published a new class exercise, that will be taught to multiple MBA and design programs internationally, which once again follows RKS and their process of creating true innovation by embracing the value of the product. In the class exercise, students are challenged to design a travel coffee mug based on the Sawhney's methodology of Psycho-Aesthetics® and "an example of a company that successfully used these principles to design and launch a new reusable water bottle in the late-2000s, KOR Water Bottles." Students will use RKS' philosophy to help translate the customer's emotional needs into an opportunity that informs and accelerates the creative design process in order to drive true market-building design and innovation. "The exercise includes exhibits to help students visualize the market, and an appendix with a detailed explanation of the PA process."
In recent years, the element of design and the design process has emerged in the business world as a critical factor to the possible success of many new products and services. Psycho-Aesthetics® was the result of confronting two of the major challenges in the design process- creating rich, actionable consumer insight and fostering more effective collaboration and successful offerings and services. The Psycho-Aesthetics® mapping identifies opportunities and clarifies design intent as a strategic foundation that informs and aligns teams through a common visual language. This framework makes it possible to systematically understand the emotional reactions of consumers by providing "in-depth market research and visualization, a lens to assess existing competitive offerings, the creation of potential customer personas, and imagining a 'hero's journey'. Combined, these analyses allow designers to conceive elements that will result in a new product or service that delivers a unique customer connection for a specific target market." Psycho-Aesthetics® has been utilized by RKS, helping them to win over 150 design awards and generate over 200 patterns on behalf of their clients.
The class exercise is now available online on the Harvard Business Review website: http://hbr.org/product/an-exercise-in-designing-a-travel-coffee-mug/an/514042-PDF-ENG
Media contact:
Jessica White
Jessica(at)rksdesign(dot)com
+1 805 370 1200
About RKS
RKS is an innovation and design consulting firm delivering human-focused solutions with global impact. Founded in 1980, RKS utilizes design as a strategic tool advancing client's ability to focus on people's needs and aspirations while creating sustainable business results and benefits to society. Working domestically and globally and having won over 150 major design awards, RKS credits Maslow and Campbell's work as the foundation for its systematic and pragmatic set of frameworks, setting the stage for the creation of experiences that motivate and reward audiences. Read more at http://www.rksdesign.com
About HBP
Harvard Business Publishing (HBP) was founded in 1994 as a not-for-profit, wholly-owned subsidiary of Harvard University, reporting into Harvard Business School. Our mission is to improve the practice of management in a changing world. This mission influences how we approach what we do here and what we believe is important. The three market groups Higher Education, Corporate Learning, and Harvard Business Review Group, produce a variety of media including print and digital (Harvard Business Review, Harvard Business Review Press Books, Harvard Business School Cases, Brief Cases, blogs), events (Participant-Centered Learning Seminars, Custom Events, Webinars), and online learning (Harvard ManageMentor, Leadership Direct, Online Courses, Simulations). Through these publishing platforms, Harvard Business Publishing is able to influence real-world change by maximizing the reach and impact of its essential offering—ideas.