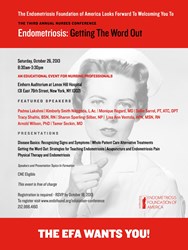 Endometriosis: Getting The Word Out is CNE eligible
New York, NY (PRWEB) October 26, 2013
The Endometriosis Foundation of America (EFA) is hosting its 3rd Annual Nurse Conference; "Endometriosis: Getting the Word Out" on October 26, 2013, from 8:30 – 3:30 pm at New York City's Lenox Hill Hospital. This free educational forum, hosted in collaboration with North Shore/LIJ and Lenox Hill Hospital, is designed for nurses and nurse practitioners, with a unique focus on school-based nurses, to educate them about endometriosis, a disease that affects over 176 million women worldwide.
The EFA's conference delivers it all, from the latest research findings and eye-opening presentations, to engaging, interactive discussions with experts to introduce and update nurses on the latest science-based clinical information and applications. It is a companion to the EFA's High School Endometriosis Educational Outreach Program that places emphasis on the critical importance of early diagnosis and effective intervention.
"Endometriosis is a debilitating disease that causes many women to suffer in silence, and can lead to missed hours at work and school, infertility, unnecessary surgeries from misdiagnosis, and the long-term use of many powerful painkillers and hormones," said Mady Schuman, Executive Director of the EFA. "The nurses attending the conference operate in such diverse and dynamic environments that offer such excellent networking opportunities. It is the collaborative thinking that continues well beyond the conference that will change the way young women and the medical community at large spread the word about this disease."
This year's conference is about treating the whole patient, not just the disease. Alternative therapies to conventional wisdom discussions will include the role nutrition plays in chronic pain management, why misdiagnosis is so common, counseling strategies for assisting patients and the role that acupuncture, physical therapy, yoga and Pilates play in pain management.
Endometriosis specialists Dr. Monique Regard, Arnold Wilson, PhD., and EFA founder Dr. Tamer Seckin, will discuss medical treatment and the timing of intervention, treating the whole person, and recognizing the signs and symptoms of endometriosis. Padma Lakshmi, co-founder of the EFA, will share her personal endometriosis journey, and host a luncheon. Kimberly Smith Niezgoda, L.Ac; Lisa Ann Ventola, APN, MSN, RN.; and Sallie Sarrel PT, ATC, DPT; will lead several engaging presentations and break-out sessions, and Tracy R. Shaltis, BSN, RN., will present the EFA's Endometriosis Tool Kit and Assessment Guide, approved by the New York City School Nursing Association.
"The EFA is leading practitioners into a new dimension of healthcare that is clinically and scientifically solid with proactive, preventive protocols that deliver better patient outcomes and will create better informed practitioners to diagnose the disease in the early stages for better overall treatment and management," said Schuman. "As a result, patients will enjoy a higher quality of life and an enhanced sense of well-being."
Eligible participants will receive five CNE credits. Location: Einhorn Auditorium, Lenox Hill Hospital, 131 E. 76th Street, NY, NY 10075. Registration required. For more information or to register visit http://www.endofound.org or call the EFA at 212.988.4160.
The Endometriosis Foundation of America (EFA) strives to increase disease recognition, provide advocacy, facilitate expert surgical training, and fund landmark endometriosis research. Engaged in a robust campaign to inform both the medical community and the public, the EFA places particular emphasis on the critical importance of early diagnosis and effective intervention while simultaneously providing education to the next generation of medical professionals and their patients. For more information visit http://www.endofound.org.