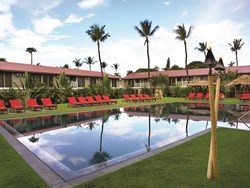 "The sun, sand and surf of beautiful Maui is a favorite destination for parents seeking relaxation, teenagers craving adventure, or kids begging for a beach," said Teri Orton, VP of condo resort marketing for Outrigger Hotels and Resorts.
Outrigger Offers Family-Friendly Accommodations with its Maui Vacation Condos (PRWEB) October 24, 2013
Date: October 24, 2013
Release Number: 63 /13
Download Images Here: http://tinyurl.com/outriggermaui Photo Credit: Outrigger Hotels and Resorts
MAUI, HAWAII– Life is 'suite' when staying at any one of the Outrigger Hotels and Resorts locations on Maui, where vacationers enjoy spacious condominium-style accommodations at affordable rates – ideal for traveling families and groups of friends. For those looking to visit the stunning Magic Isle, Outrigger vacation condos make for an ideal home base offering convenient amenities and easy access to the many island activities that are perfect for keiki (kids).
"The sun, sand and surf of beautiful Maui is a favorite destination for parents seeking relaxation, teenagers craving adventure, or kids begging for a beach," said Teri Orton, vice president of condominium resort marketing for Outrigger Hotels and Resorts. "We invite families to enjoy a stress-free holiday with our family-friendly accommodations and the value of a condo vacation."
From November through May, guests are invited to take a front-row seat to welcome the humpback whales when as many as 10,000 whales complete their winter migration to Maui. Many Outrigger Hotels and Resorts condominiums on the island enjoy stunning oceanfront vantage-points for whale watching, including The Kapalua Villas, Maui, Outrigger Royal Kahana and Outrigger Napili Shores. Outrigger Palms at Wailea and Outrigger Aina Nalu also offer a homeport for a whale watching cruises, ideal for families with kids.
With the keys to any Outrigger condominium, families and groups can expect the following:

One-, two- or three-bedroom suites – ensuring plenty of space for all
A full kitchen – allowing the opportunity to save some money and have fun creating Hawaii-inspired home-cooked meals, prepared with fresh local ingredients
An in-unit washer and dryer or on-site laundry facilities – enabling travelers to pack light and save on airline baggage fees, not to mention more suitcase space for souvenirs
Outdoor lanai – to enjoy the sounds of the sea and warm tropical breezes in the privacy of their condo
More importantly, the diverse needs of families' vacation styles can be easily met with the wide array of comfortable accommodations choices among the six Outrigger Hotels and Resorts Maui locations, including:
1. The Kapalua Villas, Maui, starting at $249 (1 Bedroom Gold Fairway View Villa)
Families will enjoy a home away from home in paradise when staying at The Kapalua Villas, Maui as it offers comfort, convenience and value – located just steps from the beautiful beaches inside Kapalua Resort. While kids are busy snorkeling in the crystal-clear Pacific, mom can unwind at the award-winning Kapalua Spa or dad can practice his swing at Kapalua Resort's 36 holes of championship golf. For parents and children who crave adrenaline-pumping excitement, Kapalua Resort offers guests the ability to "fly" across the West Maui Mountains for nearly two miles of zip-line adventure or enjoy the breath-taking scenery of West Maui's many hiking trails. Dining at Kapalua Resort is nothing short of amazing with restaurants that include Merriman's Kapalua, Pineapple Grill, The Plantation Room and Sansei Seafood Restaurant & Sushi bar -- all offering fresh, local favors and exquisite views. Perfectly located and abundant with amenities, The Kapalua Villas, Maui is sure to provide unforgettable memories for the whole family.
2. Outrigger Aina Nalu, starting at $169 (1 Bedroom Garden View)
Located at the heart of historic Lahaina town, Outrigger Aina Nalu gives guests instant access to stylish bistros, art galleries and nightlife options before retiring to beautiful island-inspired units with soothing furnishings and intimate garden surroundings capturing the grace and style of old Hawaii. Outrigger Aina Nalu also features an infinity pool and whirlpool spa, along with a tranquil open-air pool pavilion. Surrounding the main pool are four covered, thatched relaxation cabanas, and barbecue areas for grilling with the family.
3. Outrigger Maui Eldorado, starting at $209 (1 Bedroom Garden View)
Outrigger Maui Eldorado, set on the stunning Kaanapali golf course, offers spacious, beautifully appointed units as well as three swimming pools with a neighborly, casual atmosphere. Guests can also access north Kaanapali Beach and the condo's oceanfront cabana, where guests can lounge on the sundeck and enjoy their lunch in the fully-equipped kitchen. The condo is a short stroll away from Whalers Village with a variety of shops, restaurants, and nightlife for guests to enjoy throughout the day.
4. Outrigger Napili Shores, starting at $219 (1 Bedroom Garden View)
At Outrigger Napili Shores, guests get first-rate views of Molokai and Lanai on the horizon and opportunities to witness majestic humpback whales offshore from November through May. The comfortable accommodations make for a rejuvenating stay. The condo recently unveiled its smokin' hot new restaurant, Iron Imu BBQ, serving up smoked meats and good 'ole country sides and featuring a casual atmosphere the whole family will enjoy.
5. Outrigger Royal Kahana, starting at $225 (1 Bedroom Garden View)
Outrigger Royal Kahana soothes guests with its relaxed beachfront community and spectacular ocean views in a secluded atmosphere. The Kahana Gateway Shopping Center is only a few minutes away with access to shops and restaurants, or it's a short car ride to Lahaina town with dining and entertainment at Whalers Village. Guests will enjoy ample activities on property, including access to a fitness center, ping-pong table, shuffle board and tennis courts. The popular pool and deck area provide hours of entertainment or guests can get together at the poolside pavilion for a traditional summer barbeque on one of the available gas grills.
6. Outrigger Palms at Wailea, starting at $295 (1 Bedroom Garden View)
The Outrigger Palms at Wailea welcomes guests with Mediterranean-style resort grounds, modern kitchens with full-size appliances, large living spaces, and private lanais with individual barbeques and grand views of the Wailea Coast. Nearby, The Shops at Wailea provide a number of quality retailers, island art galleries, and restaurants, including the acclaimed Longhi's. Just a short drive away is three award-winning golf courses at the Wailea Golf Club as well as the stunning Wailea beaches and numerous activities in Kihei town.
Rates are per room, per night, and tax and cleaning charge are not included. The rates and specials cannot be combined with other offers and are subject to availability and change. Rates may not be used for group bookings without prior authorization from Outrigger Hotels and Resorts and other restrictions may apply. Deposit and cancellation policies also apply.
For reservations, travel agent specials and more information, visit http://www.outrigger.com/mauicondos or call 1-800-OUTRIGGER (688-444).
About Outrigger Enterprises Group
Outrigger Enterprises Group is one of the largest and fastest growing privately-held leisure lodging, retail and hospitality companies in the Asia-Pacific and Oceania regions and continues to expand its presence throughout the area. A family-owned company with 66 years of hospitality experience, Outrigger runs a highly-successful, multi-branded portfolio of hotels, condominiums and vacation resort properties, including Outrigger® Hotels and Resorts, OHANA® Hotels and Resorts, Embassy Suites®, Holiday Inn®, Best Western®, Wyndham Vacation Ownership® and Hilton Grand VacationsTM. Currently, Outrigger operates and/or has under development 45 properties with approximately 11,000 rooms located in Hawaii; Australia; Guam; Fiji; Bali; Thailand; Mauritius, Vietnam; and Hainan Island, China. Outrigger Enterprises Group also operates and develops hotel properties and hospitality-related retail and real estate opportunities for partners in Hawaii, the Pacific, and Asia. For on-line information, log on at http://www.outriggerenterprisesgroup.com and http://www.outrigger.com.
# # #