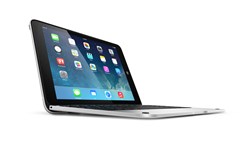 The new ClamCase Pro for iPad Air is amazingly thin and incredibly portable.
Hollywood, California (PRWEB) October 24, 2013
ClamCase® announced an all-new reimagined ClamCase Pro for the iPad Air. The redesigned iPad Air keyboard case is truly a breakthrough device. The iPad Air is the most powerful tablet on the market and pairing it with the thinnest and lightest ClamCase yet, will deliver a level of mobile productivity never before possible. More than just an upgrade, the new ClamCase Pro for iPad Air is amazingly thin and incredibly portable.
PC Magazine's Editors' Choice Award winner, ClamCase, set the standard after creating the original all-in-one keyboard case and stand for iPad. With inspired innovation, ClamCase developed the perfect balance of style, protection and productivity with the ClamCase Pro. ZDNET praised the revolutionary device when they said, "There are many keyboards available for the iPad and I have tried them all. The revamped ClamCase Pro is the best of the lot…"
Carefully crafted in a durable aluminum and white polycarbonate enclosure, the iPad Air keyboard case measures an impressive 25% thinner and 45% lighter than its predecessor. The patented 360˚ hinge provides even more variety to an already versatile device. Designed for comfort and typing ease, the island style keyboard provides a more natural typing experience over the awkward on-screen alternative. ClamCase Pro for iPad Air combines impressive performance and a sleek design into one complete package.
ClamCase, a consumer electronics design company based in Hollywood, California, manufactures and distributes the world's best iPad keyboard case and peripheral devices. ClamCase products are in high demand worldwide for their desirable features and ability to enhance FaceTime®, Facebook®, YouTube®, Netflix®, iMessage®, online gaming, endless apps, and certainly web-browsing. In addition to the growing popularity with professionals, educational institutes, and other organizations, ClamCase products are used to protect the iPad investment, while greatly increasing its mobility, efficiency and productivity.
For more information on the latest releases, or to view the entire lineup of ClamCase products including the new iPad Air keyboard case, please visit ClamCase.com or call 800-939-0335 to speak with a customer support representative.